Delaney Crawley will be adding regular updates and articles on The Odyssey 2023 project.
Delaney teaches Ancient History, Humanities and Philosophy at Samford Valley Steiner school and has been passionately involved with Steiner education for the past 15 years. She has recently completed a Master of Arts degree at the University of New England and wrote her final thesis on contemporary representations of the heroic in Homer's Iliad and Odyssey. She is collaborating with Nicole Ostini and the high school faculty to bring this festival to life as well as participating in bringing this festival to Independant School's Queensland's EPIC program's focus on engaging parents and community in the life and curriculum of the school.
8 May 2023 – autumn, setting the stage
As the expansive summer sun gives way to the hues and complexities of autumn, so too do our grand visions meet the shadowy realities of pulling together such an epic project. Forging ahead nonetheless, determined like Odysseus, to meet and move past our challenges, we continue to collaborate and bring together community, students, and teachers in our creative quest to unify under the umbrella of myth.
Our student body have all now moved onboard by retelling the story, reading the script, and walking the potential path of our festival's journey. The expansive grounds of Samford Valley Steiner school provide a stunning backdrop to a festival experience and in dreaming up a multi-site setting and a moving performance we have taken our students on a circuitous journey through the school grounds to dream into each scene of the epic and allow their imaginations to swirl and soar with how they might realise their characters and worlds.
Meanwhile back inside Ithaca, our actors and community artists grapple with the script and its epic scope scouring each scene for potentials and pitfalls, finding ways to keep our audience engaged and inspired whilst weighing our dreams with reality to extract the essential magic inside this brand-new ancient story.
Stay tuned for further contributions from community members including musical compositions, costume designs, mood boards, fight choreography, boat themed lanterns and much, much more…
We have jealousy
and tenderness and curses and gifts.
But the plight of a people who have forgotten their myths
and imagine that somehow now is all that there is
is a sorry plight,
all isolation and worry –
but the life in your veins
it is godly, heroic.
You were born for greatness;
believe it. Know it.
Take it from the tears of the poets.
There's always been heroes
and there's always been villains
and the stakes may have changed
but really there's no difference.
There's always been greed and heartbreak and ambition
and bravery and love and trespass and contrition –
we're the same beings that began, still living
in all of our fury and foulness and friction,
everyday odysseys, dreams and decisions . . .
The stories are there if you listen.
The stories are here,
the stories are you,
and your fear
and your hope
is as old
as the language of smoke,
the language of blood,
the language of
languishing love.
The Gods are all here.
Because the gods are in us.
From Brand New Ancients by Kate Tempest
28 March 2023 – The beginning
The genesis of this project began at the end of 2022 when our drama teacher Nicole Ostini brought to the attention of the staff and college a desire for a healing gesture. For the past few years, we have all carried the weight of pandemic restrictions and protocols that have left the Samford Valley Steiner School community like so many other communities around the world, disillusioned, tired, disconnected and concerned for the life and soul of the educational impulse that is so dear to all our hearts. Yes, we managed, we adapted, and we learnt how to continue to thrive, but the cohesiveness of our community took a hit, and we were still reeling from the impact on all our lives.
We needed renewal. We professed to expound Rudolf Steiner's theory of social and cultural renewal yet where was it happening in our school and how were we going to really live it? With no going back to 'normal', What kind of world were we going to live into now?
What kind of world were we going to live in now?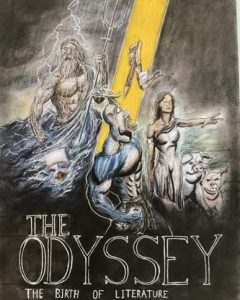 It was this question that we took to our student body. If given the opportunity to participate in a student led experience or festival, what world would you want to create? We had the backing of the college and the school leadership to run a high school focused festival, but we wanted a student led experience, not just teachers imposing their own ideas on our teenagers as to how they should feel now. We've had the experience of the youth conference and we knew how powerful student voice can be if given the right spaces and platforms to engage. We also wanted our community, our parents, alumni and friends.  We threw around ideas and initiated discussions. And then a quiet voice arose from the mass… from our students… from a year 12 student.
Our year 12 Senior Research Projects represent the epitome of what education at SVSS can be. Every year our year 12 students engage in a year long project that combines a personal passion with community and world development focus and this year we had a student, Mehdi Shajirati who came to us quietly and said I want to direct a performance and I would like to work with Homer's Odyssey.
Homer's Odyssey
The Odyssey is one of the core texts of our mythic literary curriculum. Ancient Greece and its mythological consciousness are experienced by our students in both class 5 with a main lesson on ancient Greece and in class 10 with a main lesson on the beginnings of Western Literature which focuses of Homer's Odyssey. It is very much a foundational text for the literary culture of the West, and it lives clearly in the hearts and imaginations of the students who travel the Steiner school journey.
The Odyssey is a story about coming home. Home to one's self, to one's heart, and to one's people. It about letting go of an old consciousness and embracing a new one. It is the epitome of renewal, hard won, with many obstacles and challenges along the route.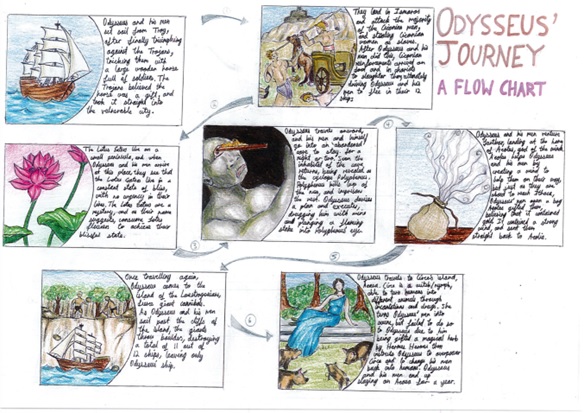 Year 10 student work – Samford Valley Steiner School
To return home asks us to first revisit the parts of ourselves that are unhealed, distracted and tempted to turn to every shiny distraction we meet along the way. Like Odysseus back from a war we never chose to fight in, we must make reparations to those we have unwittingly hurt, ignored or rejected in our quest. And we must spend time in worlds that will heal us, teach us and restore us to a right relationship with ourselves and our environment so that we return whole and of use to the humanity of the future.
So we set sail…
2023 has begun and we have held our first community forum which was a huge success bringing together alumni, teachers, community members and parents curious to be involved in such a gesture.
We have heard from passionate students who have stepped up and offered us their initiatives, their talents and enthusiasm to spearhead parts of the project.
We have begun Friday afternoon creative sessions where our students form vertically aligned groups from year 7-12 to engage in creative work that will flow into the festival.
We have engaged our wider arts community and will welcome as artist in residence this year Queensland's Dead Puppets Society at our school who will assist us in making life size puppets for our festival that engage the head, hearts and hands of our lucky year 10 students who will work closely with them.
And it seems we are not alone.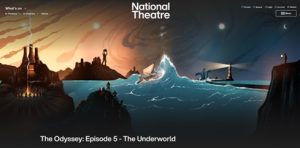 The return to ancient Greek culture and mythology has been a key feature of literary and artistic works of the last year or so reminding us that Homer and in particular The Odyssey has not only a universal resonance but one that is much needed from a world trying to realign itself after a global pandemic. From literary engagements such as Madeleine Miller's 'Song of Achilles and 'Circe' to Dead Puppets recent production of "Holding Achilles' to the National Theatre's 2023 offering of a multi- city Odyssey to bring healing to communities around England, we are tapping into a need that is not only local but global.
https://www.nationaltheatre.org.uk/productions/the-odyssey/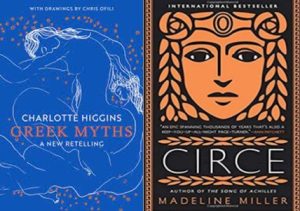 And, what's next…?
We are about to launch community meetings and align our teachers, alumni, students and parents in working groups that range from the creation of large installations, to costuming and art direction, to food and café ideas, to performance and the creation of roles, to Grecian pottery and decorative arts that will all enrich and enhance the journey we will take on together towards this festival which is set to take place towards the end of term 3, at the dawning of Spring.
And we want to hear from you.
If any of this resonates and you would love to engage or have some involvement, please reach out and contact Nicole Ostini at nostini@samfordsteiner.qld.edu.au and let us know. We would love your contribution no matter how small or large.

Dead Puppet's Society 2022 collaboration with Legs on the Wall, Brisbane, QPAC.