Project Presentations – Friday 20 October & saturday 21 October 2023
Introducing the 2023 Year 12 students and their Senior Research Projects.
The presentations will be on Friday 21 October and Saturday 22 October. All are welcome to attend. Program details to come.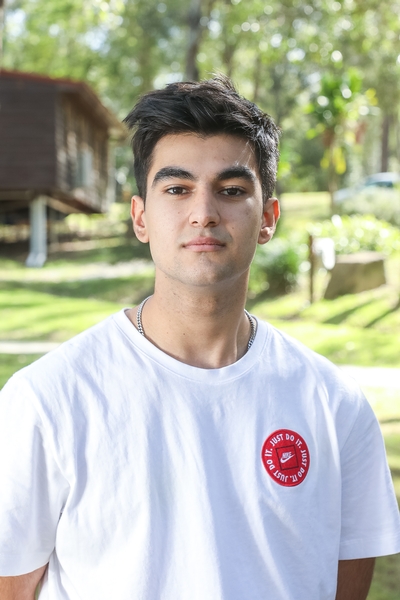 Mehdi Shajirati
Mehdi is a creative and sensitive soul with the charisma of an artist. He inspires and encourages teamwork with his peers and younger students and believes in the power of the arts to change the world.
My Senior Research Project is looking at directing and how a director can impact a play. To do that I decided to co-direct my own play, which became The Odyssey. Since I began at the school, I got heavily into acting, theatre and filming, but I didn't like the lack of creative control that the actor has, so I thought that exploring directing may help me understand more of what a director does and how this shapes the performance.
Throughout my SRP, I've researched how a director acts and responds to situations and the different types of directing. I have also gained firsthand experience with working with a crew and taking actors through scenes, and I've directed some fight choreography, which was awesome. I've learnt there are a lot of elements that a director needs to have to get their message across successfully; they need to be able to transfer the image they have in their heads into words that help the actors understand their vision and that has been the part that is most challenging for me, but is also the part that is critical to the skill-set a director needs to have.
There have been obstacles that I encountered – the first directing experience I had was challenging as I learnt to become comfortable in that role, but it's gotten easier as time has gone on. I don't think I'll move forward with directing in the future, but I hope to move into the arts and acting.
I think that being a Steiner student means being creative – however that looks for you – whether its inventing, art, physical theatre… it's learning to be yourself and be the best part of yourself. It has shaped me for the better, I can't imagine myself being in any other school, being here has created a passion within me for acting and theatre.
My favourite Main Lesson was the Astronomy Main Lesson in Class 12. It was taught by Fiona, I really enjoyed the way she conducts the lesson and puts it together.
My favourite camp is hard to choose, it would be between the Great Keppel camp in Class 7 and the Class 10 Surveying Camp. I remember jumping across the sand dunes on Great Keppel and it being so much fun. I enjoy watching everyone come together and help each other during camps, it seems like even when there might be people that don't get along in the classroom, they put aside their differences during camps to help each other and work together.
I would say my experience at SVSS has been mind-opening. We don't choose our electives until Class 11 and so you try everything and get to find out what you like and don't like. I think this helps to expand you. School is always challenging and while it doesn't get easier, it is worth it in the end. Moving forward, I would say that I hope to use the arts and acting to entertain the world.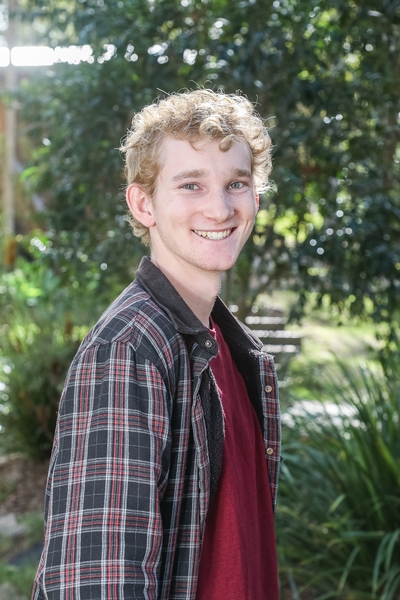 samuel ryan
 A student at SVSS since kindergarten, Samuel is a bright and clever student who enjoys the hands-on aspects of his studies. Samuel blends his wicked sense of humour with the seriousness of science. He has a passion for the outdoors and the spirit of an inventor. 
My Senior Research Project is about designing and creating a new chemical renewable energy source. This was a topic of interest to me because I have always enjoyed making things and I remember when I was about 14, my dad and uncle were talking about hydro dams and that was when I first got the idea of inventing something to generate energy. I started off with getting down a basic design and figuring out what I need to convert two way linear motion to one way rotary motion and trying to find the most efficient method of doing that. I investigated ones that were already out there but discovered that they had a lot of friction, so I designed my own and I think I am going to go with that.
I've gone a lot into the chemical side and understanding how it works and the reactions these can have as well as the energy that it can generate. I design quite a few things, so the designing aspect wasn't too difficult, but finding someone to build it with me has been a challenge. I'm sure everyone says this, but I wish I had started sooner and delved deeper into finding someone who could help me earlier with the building. Time management is key! I'm interested in moving forward with science in the future but I'm looking more towards bio and genetic engineering.
For me, being a Steiner student means you are more in nature and more hands on; the camps always come up as something that sets us apart. I've been here since pre-school, so Steiner schooling is something that has always been a part of my experience. I think that this has helped me be more creative and interested in building and inventing things. It's also inspired me to want to get out in nature, I love being outdoors! Next year, I'm taking a gap year to travel to South America and Taiwan to see more of the world.
My favourite Main Lesson was in Class 6, with Alan teaching us Greek Mythology. I love the Science Main Lessons in High School, but I do have fond memories of Alan telling us the myths. We get brought up with mythologies from all parts of the world from Class 1 and I really enjoyed listening to all of Alan's storytelling, but the ancient mythologies were very cool.
My favourite camp was Great Keppel, it was great to spend time on the island. And it's always nice when there is a water source, so we don't have to carry our water! I enjoy the challenge of pushing myself during camps to see where my limits lie and in the character building of class mates during these challenges. I enjoy all the physical aspects of climbing mountains and long hikes. I also remember running down the sand dune on low tech camp, I think it's second largest sand dune in the world.
I would say that my experience has been full of adventure and nature and looking into how the world works. If I could give some advice to younger students it would be that you get so much more out of a subject if you dive into it. In the future, I would like to be able to create a business that works on sharing energy with the world.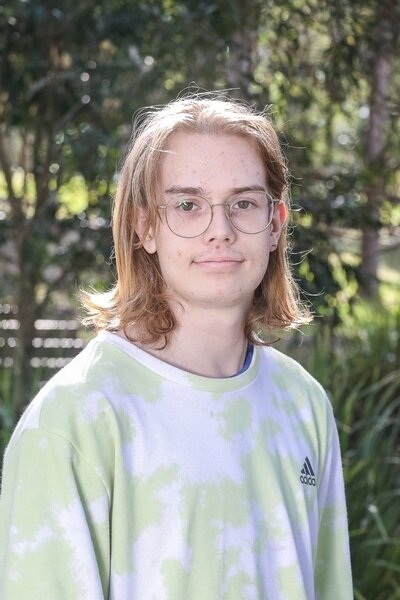 Joshua Mahoney
 Josh has been a vibrant and caring addition to his cohort since his arrival in Class 10. Artistic and with a quick, dry humour, he has become a leader amongst the younger students and is always ready to put up his hand and take on new challenges. Josh sees things with a perceptive eye and articulates his point of view with a maturity well beyond his years.
The topic of my SRP surrounds the Outdoor Classroom and I've been working on this in connection with the Odyssey. The Outdoor Classroom is a learning space that is outdoors, right next to the trees, and it doesn't have doors or conventional walls. I have been building a roundhouse, which will be a space that can be used during camps or for students to come and learn in the Outdoor Classroom setting.
Initially I thought about doing art for my project, but after speaking to Andy, we were talking about a project that could impact the school more and when I settled on Outdoor Classroom, Andy said, "Great! Here is all the 'stuff'!" and I had a great head start on where to begin. The advantage of the Outdoor Classroom on the students is its proximity to nature. There are plenty of studies that show that spending time in nature is beneficial, it helps produce the happy chemicals in your brain and if you can do that in a way that incorporates learning then it's great! It helps incorporate play into learning as well.
There have been plenty of challenges along the way. With an Outdoor Classroom, you are limited by the weather, it can get really hot in summer and obviously it's not great in the rain. Building an Outdoor Classroom is labour-intensive, and due to the Friday Verticals as a part of The Odyssey, my main 'workforce' has been Class 8 students…which presents its own challenges! You must learn how to communicate with people what you want and how you want something to look; I've definitely learnt management skills and how to deal with personality clashes. I don't think I'm going to pursue a career in teaching after this! Other skills I've learnt along the way has been the woodworking skills. I've learnt how to use the tools and work with the materials and I'm confident now that I can build what I want to.
I came to SVSS in Class 10 from a Mainstream school. In my life I've travelled around a lot, moving from Australia to England to Mongolia and back to Australia. I've attended school in a lot of different settings, and I think the biggest difference between other schools and Steiner is the community. In other schools they separate classes very intensely. At SVSS you have friends in lots of different classes and this integration is encouraged. I haven't seen that in other schools that I've attended.
I really enjoyed the Parzival Main Lesson with Mel. Currently we are doing Chemistry of Life with Fiona and I'm really enjoying that; I think it's mainly because Fiona is such a great teacher. My favourite learning experience though has been the sculpting with Samuela. We went out to the Phoenix Sculpture Gardens and that was such an amazing experience. I really enjoyed spending time inside and outside of school, working on my sculpture. It's something I really love about being here, that you can take time after school to create.
My favourite skill I've learnt here has been forging. I had never had the chance to learn metalwork before but here, everyone gets to learn metalwork, everyone gets to learn forging. You get to experiment, and that is what Andy encourages – you experiment with materials, with how you hit it, what you do with it. That type of experimentation and freedom has allowed me to develop my forging skills very quickly and I'm quite happy with what I'm able to do now.
My favourite memories are Class 10 Production, Class 11 Botany, and the VET camps, but a standout was Sailing camp with Dave and Kali. I get seasick a bit, so I didn't go for extra sailing, but it was great to wake up by the water and sitting by the campfire and making dinner and talking to everyone…I love that so much.
After school, I'm thinking of going into politics in the Greens Party to see if I can use my words to impact and improve the world we live in, even if it's just one town. Either that…or paint. Maybe I'll try to change the world through my art.
For me, if I was to sum up my experience at SVSS, I would say it has been one of free, creative, exploration.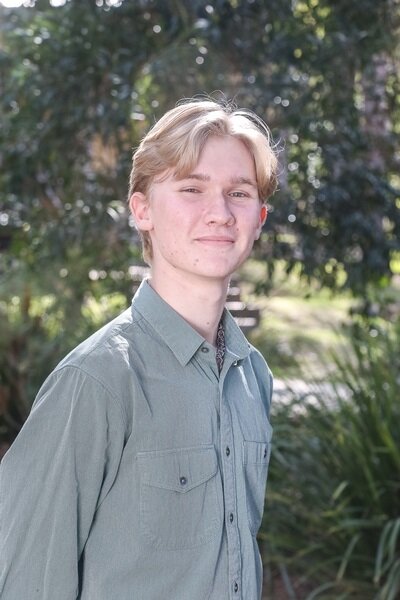 Thor Morrison
 Thor has integrated himself effortlessly into his class after his arrival in Class 12. With both an analytical and creative mind, Thor has excelled as a student. He is confident, with an upbeat vibe that is contagious. Thor has a musical soul and a passion for performing arts.
For my SRP I have been exploring musical composition. Over the course of the year, I have composed four different pieces of music and arranged one, for a variety of instruments but primarily strings. Two string quartet pieces with a soloist as well, so technically a quintet, violin and cello duet, a vocal duet and vocal trio. My SRP was focused on composition of music but also on the performance of music.
As a composer and also as a musician, it's important to me that music is actually performed and not just written. As part of my process, I ran auditions for musicians and then we ran rehearsals and then had a performance.
The theme of the music was on solitude or loneliness. One of the ways I explored portraying that was via uneven number of parts, so there was always an outsider. I also did this through keys – such as minor keys to bring a sadness element to it. Each piece reflects a different aspect of loneliness or solitude and the emotions that can come through that. There are pieces that are sad and pieces that are happy – because people can be either of these emotions when being alone.
I chose solitude because it's something that I relate to. I am one of those people who enjoys solitude, but I've also experienced the negative emotions that can occur with this also. As a child I grew up in the Northern Territory and my parents are rangers, so at times we would be on stations for months on end and it would be just our family, which I think has helped me be comfortable with being alone. It's not a foreign concept to me. I find it interesting to see how different people react to sitting with their own company. Following on from that, I think after covid, there has been a big shift in the nature of loneliness, loneliness increased during covid lockdowns, but it was found that after they ended the levels remain increased as people struggle to find that connection afterwards.
After school I hope to continue writing music by doing a Bachelor of Composition.
I have been at SVSS since the beginning of the year. Prior to that I was in a Steiner school in Cairns. There wasn't a big transition for me as they also did the CSE, so I felt like I could just jump straight in.
My favourite Main Lesson was Modern Literature. I really enjoy reading and I believe that stories are very important. I enjoyed doing the deep dive into sub-genres and the effects that the two World Wars had on literature at the time and where we are now and where we might go in the future.
I haven't been on a camp since I became an SVSS student, but I've been on two camps with SVSS – the first was in Class 10, when the Cairns Hinterland Steiner School joined SVSS on their Surveying camp and we came down here and we got to do the map making together. Last year I also came down and did the K'gari camp with the Class 11s. I really enjoyed the hiking on K'gari even though it did rain a lot! It's awful setting up tents in the rain. But we had a lot of fun. I remember this one part where it had been raining for a while and we stopped for a rest, there was this break in the rain, we sat down in the middle of this rainforest, eating lunch with these big trees and it was really beautiful.
I really enjoy the metalwork and blacksmithing. I had never done anything like that before. We did an excursion to a blacksmithing festival a couple of weeks ago which was very cool. It's fun to learn this kind of obscure skill.
I think being a Steiner student means exploring different realms of what you can do. You aren't constricted to a singular topic or a singular stream of learning. You have the opportunity to combine different aspects of learning within a project.
I have enjoyed being a part of SVSS.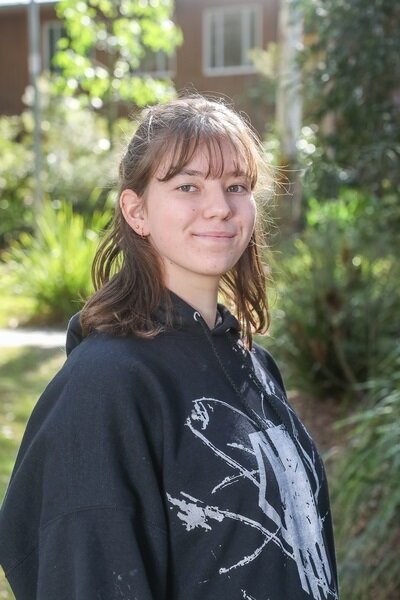 Mia Altschwager
Mia is an incredibly dedicated student who manages to balance the fullness of life with her studies. She meets every challenge with a can-do attitude and infectious enthusiasm. Mia has the rare ability to understand the value of connection and be able to express this both in her school work and photography.
I decided to do my Senior Research on how to best capture a moment through photography. I have had to learn how to take the photos and how to edit them as well as the best places to print your work. I also presented a gallery of my work to the public. Photography has always been something I have been interested in since I was young. When I was little, I would take my mum's phone and take photos of everyone. A couple of years ago, my sister got a camera for her SRP and I decided to use this and learn to use the camera properly.
I have learnt about the different colour profiles at different printers and how to make your work more 'true to colour' when printing. It was very surreal seeing my work printed. It was a massive job to pick out the ones I wanted to show and then put them up – there seemed to be a lot more than I thought! My favourite thing to capture was the little moments of connection between people that I know, especially those people in my class.
I will definitely keep doing photography as a hobby, but I don't think I will do it as a career.
I've been at SVSS since the end of Class 9, and I had my first camp three weeks after I started at school. It was one of the most intense camps as it was the minimalist camp, you even made your own bag to bring with you! It was a beautiful location, the waters were amazing and we swam every day.
My favourite camp was the Sailing Camp. I really enjoyed being on the boat – especially when I didn't have to do anything and could just sit back and enjoy the scenery. I had never sailed before so I had to learn how to sail. There was also a lot of leadership in that camp as we all took turns being captain. It was a good one to bond over because you had to troubleshoot a lot while on the water. It was freezing cold though!
I have really enjoyed learning the skills we picked up in Hardcraft. At my old school we didn't have this offered. We get to just jump in and everyone is like, "It's okay! We will just teach you how to do it." We  have also had to learn a lot of time management this year as we have big jewellery projects going where we have come up with our own designs  and journal about that, then learn to make the jewellery and then also take the extra time to shine them up.
Comparative Religion was a favourite topic. We took that with Delaney and I really enjoyed how it was an immersive experience that included excursions to the churches and temples so we could understand how things worked and talk to people in that religion.
Favourite memories for me would be the sports day where Ebony organised a volleyball competition and the Class 10 Production and hanging out with my class afterwards, skateboarding.
After school, I'm not sure I want to necessarily impact the world, but just make it better in some way even if it's just for one person or the people that are close to me. If I'm helping to make things better for even one person then that's good enough for me.