Project Presentations – Friday 15 October to Sunday 17 October 2021
Introducing the 2021 Year 12 students and their Senior Research Projects.
The presentations will be on Friday 15 October through to Sunday 17 October. As stated below, all are welcome, but due to covid restrictions places may be limited. Please RSVP to mbarna@samfordsteiner.qld.edu.au by Thursday 14 October 2pm to attend a session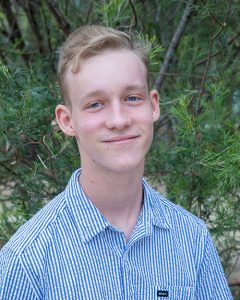 morgan perry
Morgan has been a student at SVSS his whole schooling journey and is well liked amongst his peers. Morgan will meet any challenge head on and dive straight in. With a keen interest in humanitarian issues, he has been described as mature and courageous with a sharp, inquiring mind.
My question is "What is the relevancy of the interior designer in the 21st century". I am exploring this by investigating the past, present and future of interior design as an art, science and an industry. For my practical, I am designing a kitchen for our house renovation, and I have been hoping to blend aesthetics with something that is easy to use and remedies the current kitchen. I've always been interested in interior design and whenever we would travel or go somewhere, I found I was always thinking about how things could be laid out differently or could have been done in a way that made better use of the space.
The most unexpected learning curve for me was the use of CAD software which I began using as a part of my practical. This learning process was much more time consuming then I ever though it would be, and I am still in learning new methods of use every day.
I've been a Steiner student from K-12 and I think for me being a Steiner student has meant being taught how to critically analyse the world around me, and the question why things are the way they are. A Steiner education develops this deep sense of thought and curiosity about the world.
The Main Lesson I most enjoyed was Economics and Ecology with Dave. It's been so interesting to learn about the inter-relationships between the two and how we can create a sustainable relationship between the environment and industry.
My favourite camp was the Sailing Camp in Class 11. It felt different to other camps in that this one was enjoyable in the moment and was so fun. You were spending the whole day just in the boat, sometimes on your own and you can just be.
A favourite experience at SVSS was the Winter Spiral. As a child, the Winter Spiral was just a simple activity, but as I matured, I began to appreciate it in a deeper sense and it became a moment to reflect and meditate without having to think about anything else.
I feel that SVSS has been a very holistic approach to lifestyle and the curriculum. It feels like everything is taught and provided with such purpose and thought, giving the student so much opportunity for personal, individual growth while still being supported.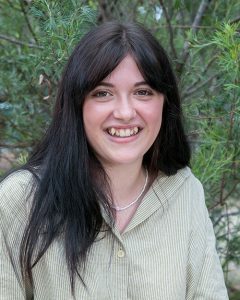 ISABELLA PEVERINI
Isabella has been with SVSS her whole schooling career, starting out in 2008. Isabella has a creative and curious mind and is both passionate and thoughtful. Her teachers have described her as mature and enthusiastic with a strong sense of direction and purpose.
Throughout this year I have been exploring the value of time and have been doing so through a practical project/experiment called "A Handmade Breakfast". This year, I have been working on creating everything for this breakfast from scratch. This includes the food I eat, the furniture and cutlery I use, the plate I eat off, the mug I drink out of and the clothes that I wear. I was drawn to researching these particular products as they are ones that we all use every day. I have been researching how these products are mass produced and then into how I can produce them myself.
This project allows me to fully appreciate the amount of time it takes to make the products we use in our everyday life, and it puts forward the question – "Are we more connected to the products in our life if we understand their process and origin?"
Throughout the process of making these products I have already noticed my greater appreciation for the things I use in my everyday life. I have become extremely connected to my own products and I think my connection will strengthen immensely when I see all of the my work come together.
Having been a Steiner student, and a student at SVSS my whole life, I cannot really know what it means to not be a Steiner student, but to pin point it, I believe the connection and gratitude I have for my class, teachers and the school is what makes me a Steiner student.
A favourite Main Lesson for me was 20th Century History, due to the range of topics we discussed around ethics and modern history.
My favourite camp was Class 11 Sailing Camp. It was one of the last proper camps as a class and we were given more independence. Working with the weather gives an element of spontaneity that meant every day was a surprise. We got to see a lot of different types of wildlife, like whales and dugongs.
The stand out experiences at SVSS for me has been relationships formed between my class and being able to talk to the teachers. It's really been about the community.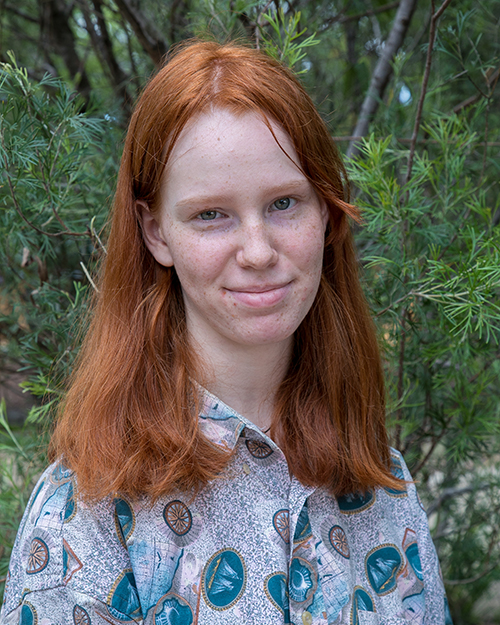 EBONY GERSCHWITZ
Ebony has been a student with SVSS for four years, joining in class 8, but quickly moving up to class 9. Excelling in both sport and her studies, Ebony is both empathetic and supportive to her peers and carries herself with a quiet confidence.
My SRP is about Computer Aided Design or CAD, the development of CAD and where it's headed and how that might be of benefit to the local community. At the moment, CAD isn't very accessible for the general public and I'm exploring ways that it could be utilised more by the everyday person. I am also developing my skills with designing and producing. To begin with I created keyrings and now I am working on pieces that have multiple parts like a clock or water bottle. I'm working on a final big piece that is yet to be revealed.
Throughout the project my interest in CAD has deepened and my skills have improved. I've had challenges with time management and planning on the projects – the planning is quite involved! I've also learnt to ask for help and that I can't do everything for myself.
I know I am a Steiner student because it has really reflected in my hobbies, I enjoy the outdoors and spending time with people instead of screens. I think I have a deeper appreciation for Steiner schooling than most as I was at a state school before I came to SVSS. Steiner schooling has taught me to be more respectful of the world around me and of learning. It also means I get to really involve myself in my work and throw myself into a project instead of just studying for a test.
I couldn't pick a specific Main Lesson but I always enjoyed Art Main Lessons with Samuela. It's a lot of work but you can work independently and be creative. It's just as involved as other Main Lessons with work content but you can put your own artistic element into it and the environment is so relaxed.
My favourite camp was Farm Camp. I went on that one not long after I joined the cohort and it was a good bonding experience. The environment out there was almost a cleansing experience where you could just slow right down and spend time with people. There was always something to do, painting walls, tending to animals, walking or being outdoors but it felt more relaxed.
A favourite experience at SVSS has been playing volleyball at lunch time. I'm volleyball obsessed but it's been spending time together with my classmates and also some students from the other classes. We just have a really good time and it makes me smile every day.
SVSS has given me a great opportunity for learning and a broad variety of experiences in a welcoming and tight knit community.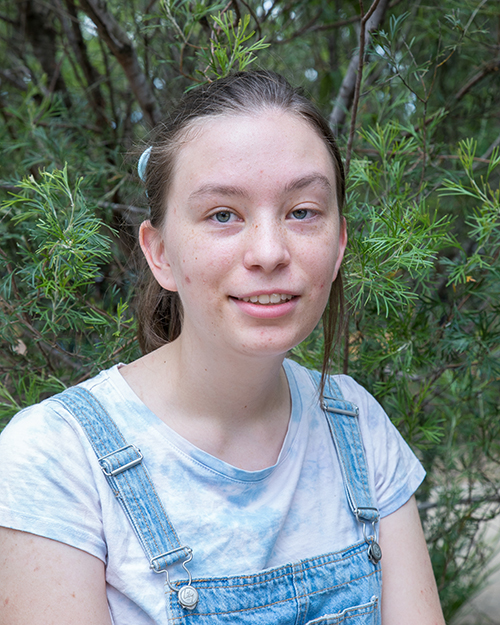 Eva Altschwager
Eva started at Samford Valley Steiner School in the second term of Class 10, where she has been warmly welcomed into her cohort. Eva is a kind and caring friend and always ready with a smile. Eva is conscientious and a hard worker with a love of both science and art.
My theme for my SRP is The Night Sky. I have always been interested in the night sky and I would take the time to go out and notice the stars, especially on our trips out to Kingaroy where they are brighter. Since beginning the project, I have been observing the sky more often and through my research I realised that the night sky is constantly changing, and things are always in motion, but most people don't notice. Through my project I am hoping to challenge people to take the time to look up.
As a part of my project, I am combining art and science to make a calendar which will mark the special astronomical and astrological events. This has been a fun project combining my drawings, which I am scanning in, and a lot of design aspects. The more I have learnt the more I realise how active the night sky is!
Working on my project has been a learning curve, there are so many interesting aspects, but I have also had to learn time management and the logistics of how to make the calendar and all about design.
I know I am a Steiner student because I feel like I am a part of a community. People talk face to face and are on their phones less. In other schools there seems to be this gap between the boys and girls, but here everyone treats everyone else the same way, it's tight knit. Also, people are less afraid to get muddy! 
My favourite Main Lesson was Ancient Histories with Brendan. I really enjoyed the different fashions and the contrast between clothing then and clothing now. Andy got dressed up and came in and we got to handle all the medieval weapons and armour. It was a lot of fun!
The best camp for me was the Sailing Camp, where we sailed around Moreton Bay and visited the island and buried a treasure on Straddie. I love the ocean and we saw a lot of wildlife including dolphins, sea turtles and even a whale. It was breaching and blowing not far away.
Another of my favourite experiences was learning to surf up the coast. I had never surfed before and even though I got wiped out a lot, I had so much fun.
I would describe my time at SVSS as a friendly and kind environment with amazing friends who have supported me with finding my passions.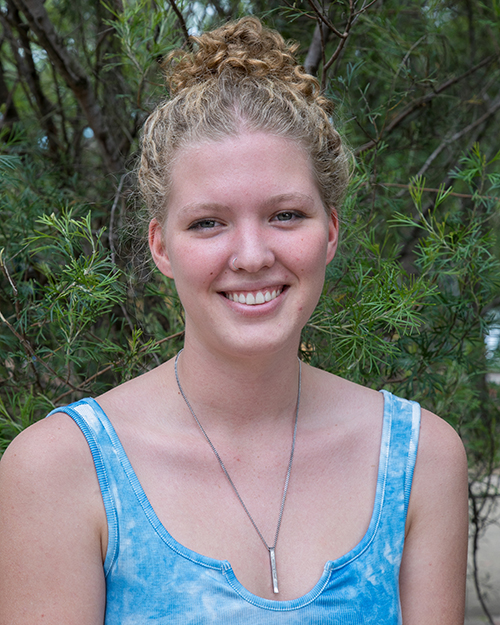 dana kiers-bontjer
Dana has been with SVSS since preschool aside from a few years in Melbourne attending a Steiner school there before returning to Samford. She is a sensitive and empathetic person with a caring heart. Dana is a keen photographer and enjoys art.  
For my project I am exploring sadness and colour association and effect on this emotion. I have always been interested in emotions and initially I was going to explore a variety of them, but I decided I could work better if I narrowed my focus. I started to think about the role colours play on emotions by observing all the colours in the primary school and the effects colours are said to have on child development. I started to wonder what colours people associated with sadness and why; and also whether colour can also have an effect on mood. My SRP uses photography and fine art as a medium – I have always loved photography and Samuela encouraged me to look into fine art as well.
I have learnt a lot about time management. I have found it a challenge to stay focused on one thing for such a long period of time and to remain motivated and interested in it. I'd like to say that I have found tips to make these easier but I'm still figuring that out!
It's hard to explain what it means to have been a Steiner student. I have been a Steiner student my whole life, I first started at SVSS when I was in pre-school and have been here all my schooling career, except for three years in Melbourne. I think I have been brought up to be creative, not just academic. I have been taught to be kind to people and our environment.
My favourite Main Lessons were always with Dave, because they are so much fun to be involved in.
I have loved all of the camps I've been on during my Steiner education. I have great memories of the first camp I went on in Class 3, it was a farm camp and we did things around the farm and I got to ride horses which I loved. There was also a flying fox which was fun. I also was lucky enough to go on a camp during my time in Melbourne where we spent a few weeks doing community service in the desert with an Indigenous community at Impana.
A favourite experience at SVSS is joining an ensemble and a tour in Germany. As well as just being able to go on so many camps and going to these amazing places.
SVSS has been like a big family that I've been with for 14 years.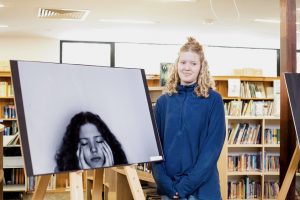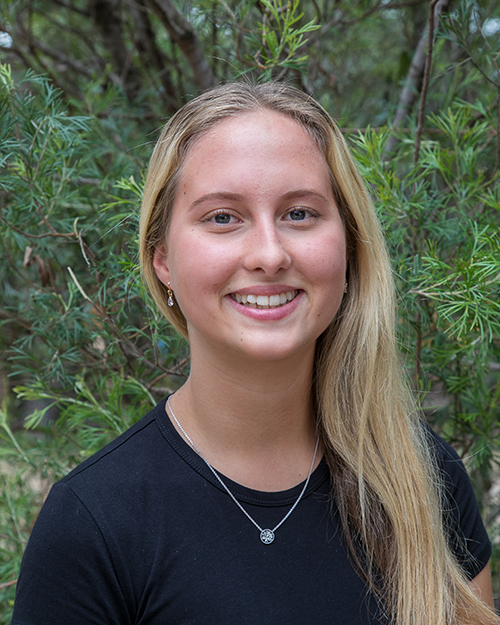 hannah abbink
Hannah is a newer student at SVSS, having joined her cohort late 2020 from QACI. She is an industrious student with a keen curiosity about the world around her and her interests.
My SRP is looking at set design in film and exploring that through my question. I will be looking at set design and the impact it has on the story or on setting a mood. I've always had an interest in film, and I was curious about what went on behind the scenes that most people don't think about. Set design can make or break a scene, as good scenes draw you into the story. For my practical, I will be designing and building a set for a scene based on a story I have created myself.
I have learnt so much about set production and how a whole production team works together to express the director's intention for the story. There are so many small things that go into a scene, such as colour and placement of items, and this balance between the ease of shooting for the film crew and the viewer's experience and emotions.
While I am a fairly new Steiner student, having come to SVSS late last year, I feel like I am able to be more creative and it has opened that way of thinking. I feel like I am encouraged to find new depths with a project and you are challenged to explore it more and how it relates to yourself.
I really enjoyed the Main Lesson 'History of Architecture' with Samuela. We had the challenge of designing a tiny house and it was fun to be given the criteria and then having to be creative about how you could fulfil it.
My favourite camp was the Leadership Camp. I thought it was interesting to explore different types of leadership roles, not only within our class but in the wider scheme of things.
A favourite experience at SVSS was the excursion to the city for the Architecture Main Lesson, we spent the day in the city looking at the different buildings and it was really interesting.
SVSS has been the place that has made me feel comfortable to creatively explore the things I enjoy.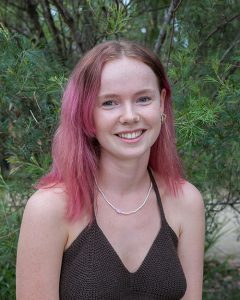 SAFFRON PEARCE
Saffron is a thoughtful and committed student at SVSS, beginning her journey here in 2011 and is a kind a loyal friend to those within her cohort. While Saffron has a critically thinking mind, she is also deeply artistic and her senior project has showcased her passion for social issues with a creative spin.
My Senior Project has multiple questions, however I have (for now!) titled my theme: An exploration and presentation into our possessions and how they shape the individual.
The practical aspect to my project is a body and collection of photography, displaying people and their relationship to their possessions. I had a strong feeling late last year that I wanted to learn photography and produce a body of work, however I was not quite sure on the theme.
After experimenting with different topics, I stumbled across the concept of Possessions. I delved into lots of research in relation to consumer behaviour, different kinds of relationships and ideologies people have to material goods (hoarding, minimalism, asceticism). I was intrigued heavily and found many artists and photographers who have inspired my work greatly. I think one of the most important aspects to my project is that all of us can somehow relate to its theme. We all have a relationship to the material objects that we own, so it is critical that we reflect on this connection, particularly in this consumer age.
Producing and exhibiting my ideas and reflections through the medium of photography has been very rewarding as I feel photography as an art-form can show honesty in the subject that it is portraying. I have learned how to properly use my camera, which was a lot more complex than I thought it would be, however I think it's a really great skill for me to now have. I had no prior knowledge to using it earlier and only really had the basic skills.
This project has pushed me quite a lot, as I have had many conversations and 'interviews' with people within and outside our school community. This has been great not only for my  extended research but to push me out of my comfort zone. As the of the nature of the topic asks people to reflect on their personal relationship to their possessions, I feel by listening to theses stories, I have deepened my connection to some of these people. I have also been quite reflective over the year in relation to my own consumer habits and trying to grasp a larger sense of my self. Currently I am in the process of planning for my exhibition in early September. I am very excited to share my work with the community.
My Steiner education has shaped me enormously as a whole. It challenges my thoughts constantly and my perspective on life feels a lot broader due to the ways in which our curriculum has been delivered. I have been provided with many rich opportunities that other adolescences may never be able to experience- from camps to conferences, international exchanges and our senior projects.  I feel extremely grateful to have been gifted these moments as they have had some of the largest impacts on my personal growth. I have discovered a strong sense of what community is and means, and I have recognised this deeply over the past year when working on my senior project. I certainly believe this education has provided me with the tools to develop a strong sense of self. This has been supported by things like; the importance of our outdoor education program, questions asked in class which challenge my ideas and simply, by being able to call our teachers by their first name.
There has been many valuable opportunities for me to express myself through the free dress uniform and how my opinions and thoughts are taken into consideration. I think this is largely fostered through the 'culture' created at Steiner. The underlying nurture and care that all staff members provide is felt enormously and has really helped shape my work ethic, state of mind and overall wellbeing. I have been provided with a beautiful physical environment that I have been lucky enough to spend the last decade of my life in and been surrounded by a strong social class that is warm, supportive and honest.
For Main Lesson, I'd definitely have to say any Dave main lesson is my favourite. From poetics in class ten to 20th Century History this year, his main lessons are always insightful, and I look forward to Dave's teaching immensely. This year our Main Lessons always started by singing in the morning, constantly lifting my mood. My other favourites include Acids and Bases with Jenny, and Parzival last year with Mel.
I would probably have to say my favourite camp to date would be our Year 11 Sailing camp. We spent the week unsure about the weather, meaning everyday was unplanned, making the week almost relaxing and made me stay in the present and take every day as it came. We had so many lovely moments together as a class, seeing whales breach almost 50m away from our boat, a dugong sighting and rainy afternoons sitting on the porch sharing lunch. I felt extremely content the whole week and I left feeling excited to finish my final year of school with my class.
One of the most fulfilling and largest experiences throughout my entire Steiner education and adolescence, was my overseas exchange in Class 10. I travelled over to Germany and lived in a small city called Freiburg for three months. I fell deeply in love with the country, its culture and people. I learned so much about myself that has really shaped and transformed who I was. This has allowed me to complete my school journey in the most positive way possible. Not only did I create lifelong friendships, but I found another home for myself on the opposite side of the globe.
The past ten years of my life has been full of creative learning, deep friendships and extremely beautiful experiences. I feel confident within myself to create strong meaningful decisions into my life outside school and I believe my education has provided me with the foundations of knowing who I am. And for that I cannot express my love and gratitude enough.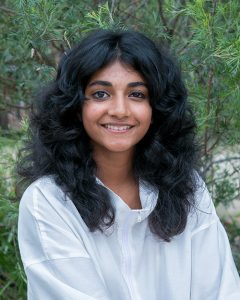 Nishka Varghese
 Nishka is a dedicated student who is passionate about creating a better community and has been actively involved in the High School. Nishka is a person who cares deeply about other people and is always willing to help out a fellow student.
My question is "How can I explore and bring awareness to the impact of the system upon the individuality of refugees and asylum seekers, and what avenues can be accessed to support the crisis and include their unique identities?" It has developed immensely since I first began, and I cannot believe the journey it has taken me through.
I began my project looking at the refugee crisis, not having a particular focus. I had been involved with Refugee Action Collective as part of my Year 11 volunteer work and was aghast by the horror of the refugee and asylum seeker crisis in Australia alone. My volunteer work was focused on organising protests to object to the policies and treatment of refugees and asylum seekers at the hands of the government and through it I found the urge and inspiration to embark upon this project. The stories I heard inspired me to delve deeper into the individuality aspect that is often overlooked when weighing the enormity of the crisis above the individuals within it. As my project progressed, I also began to understand the importance of spreading awareness and support in whatever way possible, and this soon became another main aspect of my approach.
I have spoken to some amazing people throughout this project, and it has deepened my understanding of individuality and the importance of shedding light on it. Having conversations with people I have never previously met, and who have been through such incomprehensible hurt, pushed me out of my comfort zones and taught me so much about unique identities and listening deeply to their stories. The other practical aspect of my project includes volunteering and hosting an event for the community that aims to spread awareness. The event will include guest speakers and the screening of a film called "Scattered People". The documentary follows the story of two Iranian refugees as the find themselves in detention in Brisbane and find a community through the healing power of music. I am currently in the process of organising this event and look forward to sharing a night of community and awareness.
Throughout this process I have learned so much about the refugee crisis and the importance of bringing awareness to it. I have heard stories from many amazing individuals about themselves, their journeys and their passions, and I have learned how intricate and deep life can really be. Through the process, I have learned to be patient with myself and take time to rest. I have come to understand that there is so much more to each facet of life and that looking beyond something that is seemingly black and white can open up a world of so much depth.
My Steiner journey began when I was two, so if I am honest, I don't really know who I am without it. I believe that Steiner has taught me compassion and curiosity and above all to hold on to my imagination. Steiner education has truly shaped the person I am, and I am forever grateful for everything it has given me. My love for art, music, camps, and so much more, has been allowed to grow and flourish through Steiner and especially now as I have all of my lasts and take my final steps at this school, I am so appreciative of everything it has taught me.
Two main lessons that have really stayed with me are Comparative Religion in Class 11 and the Surveying main lesson in Class 10. Both were so incredibly engaging in their own ways and really taught me so much about both the world and myself. The camp attached to the Surveying main lesson was incredibly enjoyable and the practical knowledge gained from it compares to no other. Comparative religion brought interesting debates and conversations to our class and brought realisations about my own relationship to my identity. The Society and Culture and Art electives have also been so incredible to be a part of this year.
The camp program has been one of my favourite and most cherished experiences at this school, so choosing only one camp is quite difficult. However, farm camp was definitely one of my best experiences at SVSS. The camp allowed me to bond with my class and create memories that we still talk about to this day. Every day brought a new adventure and fun and it was such an amazing way to begin our journey through high school.
Throughout my high school journey at SVSS, Year 10 holds a special place in my heart. Starting out with my student exchange to Germany, that year holds so many unforgettable memories including the Youth Conference and Melbourne camp. I met so many people from all over the world that year and was surrounded by new experiences the whole time. All of the camps also take up a very special place in my memory and will always be what I look back upon.
My experience at SVSS has taught me to cherish my imagination and work hard. It has led me to meet so many beautiful people and create relationships that are so close to my heart. My experience has taught me to challenge and believe in myself and I will be forever grateful for the experiences it has offered me.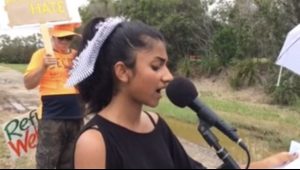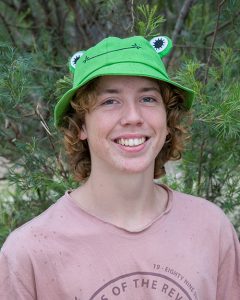 Jasper Wright
Jasper has been with the school since Class 5, coming from another Steiner school. He is a carefree easy-going soul with a creative streak. Always surrounded by friends, Jasper is well liked and quick to laugh. Jasper's artworks are expressive and whimsical with a good dose of humour.
My question is, "What is necessary to produce good quality animations?" and I've gone about this by learning how to produce animations myself and see what was involved. For me, this was really an exploration of animation and I wanted to look at all medias. I discovered it was a lot harder than I thought but now I have a good idea about how they are created and what goes into them. I feel like I answered my question.
I feel aside from the skills that I have improved, I have gained a lot of focus from the process by sitting down and working at something consistently. On a more practical level, this was also the first year I had a laptop and learnt how to use the different software which has given me more skills to move forward with. Next year I intend to go to university to study animation, so I am really continuing my project next year and feel like it's clarified what I want to do with my career.
I have been a Steiner student my whole life, so it is hard to answer the question of how I know that I am a Steiner student, but I feel it has helped me to be an individual with my own thoughts. I feel like I've been encouraged to always express myself in a way that is true to me.
I always enjoyed any Main Lesson that had a camp with it. They were always fun and it's hard to pick one that stands out, but I really liked the Main Lesson we did on anatomy where we drew all the bones. I was fascinated by drawing the human body and seeing how everything fit together.
My favourite camp was probably Farm Camp. We cooked our own food, and everyone had a role to play when it came to keeping ourselves healthy. I think because it was three weeks, you fall into a rhythm also.
A favourite experience at SVSS has been just hanging out with mates at break time. I also have enjoyed the relationships with the teachers, I feel like I've gotten a lot closer to them in the last year and I don't really see that in other schools.
My experience at SVSS has been a good one, I never have had a bad time here. It's been pretty cool.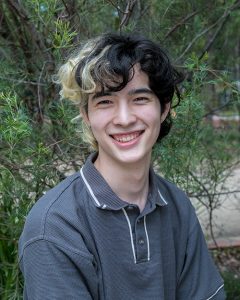 Oliver Chong
Oli came to the school in Class 9 and quickly became fast friends with the other students in his class. He is outgoing and friendly, able to have a chat with anyone and make them feel at ease. His teachers have described him as having a sharp mind and that he contributes to conversations with deep thought and passion.
The theme of my SRP is on consumers relationships to meat and animal products. This was something that I had always been curious about but never delved into. People will often talk about knowing where your food comes from but I hadn't looked into it before so decided to use the SRP as an opportunity to do that. I expected I would find that meat was all 'bad' but discovered that it can be healthy and farmed in a sustainable way but not with the current system we have. I have been vegan for the duration of my research as a further way of exploring this topic.
The greatest challenge for me has been reading lots of dry papers and official documents during my research. Reading through standards can be quite monotonous and boring and it's hard to keep focus.
I came from a mainstream school in class 9 and I feel like I know I am a Steiner student because I feel like I spend less time on technology and I do feel more refreshed being able to be away from it. I feel like that has made me less dependent on it, I have no trouble keeping my phone in my bag, I don't feel like I need to constantly be checking it.
My favourite Main Lesson was Medieval History with Brendan. The topic itself I find really interesting and Andy also came in in his LARPing gear (live action role play). I got to have a go of the axe, it was quite heavy and just handling the equipment was fun and added an extra element to the lesson.
Farm Camp was my favourite camp. It was the first camp that I went on after coming to SVSS and it is a real bonding experience. You get to connect to your class so much, while also disconnecting from everything else. I had my birthday on that camp, too.
One experience I remember as a great experience was the Reflections Camp. I spent one night looking up through the vines at the stars. I remember completing my English assessment that night and it didn't rain which was good – and unusual for that camp! I just really enjoyed that night in particular.
I would describe my experience here as 'relaxed and rewarding'.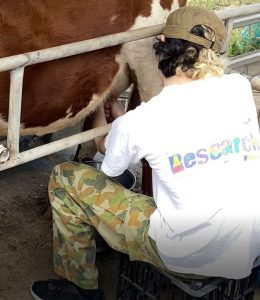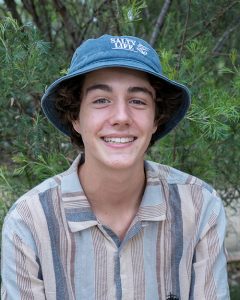 Jackson Park
Jackson is a thoughtful and dedicated student who cares deeply about others. Relaxed and always ready with a joke, he is witty and artistic. Jackson is very determined when he is passionate about an interest, which is evident in his project. He is confident, honest and always true to himself.
For my SRP, I still don't have a defined question, but I am exploring a range of different trades in a construction project. At the start of the year, I began designing a pergola and deck next to my family's existing pool and over the course of the year I have been constructing it under the guidance and assistance of my mentors. Throughout the project I have gained experience in liaising with suppliers, drafting, concreting, steel fixing, plumbing, excavation, carpentry, roofing, and I still plan to do some basic electrical work, painting, and fitout.
I have gained so much from my SRP experience, it has really given me an insight into the building process, and I have more confidence liaising with suppliers. I think one of the biggest skills I have gained from the process is problem solving, as there are always going to be small or large things in construction that don't go to plan. At the start of the year my first instinct would be to ask my mentor but as the project has progressed, I find myself often trying to work things out for myself before asking. I have also learned the importance of planning and looking forward to seeing what needs to be done and trying to work out how that will happen. I am looking forward to starting my carpentry apprenticeship next year with MCD Constructions – the building company who are currently building the new Primary School classrooms.
I think being a Steiner student comes down to my love of nature. I will always enjoy being outside and I think that Steiner has taught me a level of respect for nature. Maybe it's from doing gardening in the lower grades and spending freezing nights in the Bunya Mountains, or climbing up Mount Warning in the middle of the night. Or perhaps, just from spending every break in the primary school building cubbies or playing in the water course.
A favourite Main Lesson would have been one of the art lessons with Samuela. I liked the alternative style Main Lesson book which we were able to fill with art.
My favourite camp was undoubtedly the sailing camp in Year 11 when we sailed around Moreton Bay. I enjoyed it so much because we had a certain level of freedom, the staff that attended the camp were all keen sailors, so it felt like we were all just on holiday. I remember the first day when we arrived at Victoria Point and it was extremely windy, I had done some sailing before but never in winds like this. At this point the teachers told me that because I had sailed before, I would be the skipper of one boat without a teacher…the sail was certainly challenging! One boat suffered a broken mast, and another ran aground, meanwhile, I'm trying to learn how to sail this new boat. I think most of the boats got towed to shore but somehow myself and the others on the boat sailed perfectly to our destination. I'm not sure how we managed (possibly a lot of luck!) but it was a memory I will have for a long time. After we fixed the boats the next day the weather was much kinder to us for the rest of camp and we had sunny days sailing over the beautiful bay with visits from humpback whales that put on a show for us.
As for stand out experiences, one of my best experiences was reaching the top of Mount Barney after hiking through the surrounding bushland for the week prior. It was very rewarding standing at the top and looking out at the great view.
SVSS has been a place where I have been able to express myself in a creative learning environment.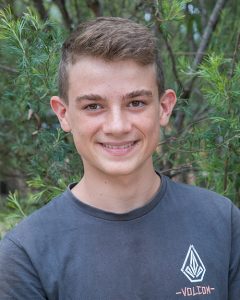 Lowis Marten
Lowis is a long-term student at SVSS, having spent most of his schooling life at the school. He is a diligent and committed student who has a love of the outdoors. Lowis is one of those people who always has a smile for everyone and a generous mind that always thinks of others.
My SRP aims to answer the question "How can I use my acquired knowledge on route setting to set inclusive routes of different grades?" This project was inspired mostly by the VET certificate on Outdoor Recreation I did last year, but also greatly by the amazing climbing community that I have been surrounded by. As my project progressed, I began looking into all the different facets of the climbing world including disabled climbing. This led me to delve deeper into the inclusivity aspect of route setting, and I shifted the focus of my project to setting climbs that encompassed the unique capacities of disabled climbers. For the practical aspect of my project, Urban Climb made it possible for me to set three climbs of different grades, were each was dedicated to a specific physical disability. I spoke to setters and para climbers from across the world to gain an idea on what to consider and give importance to when setting para climbs. With the support of the wonderful Urban climb gym and community I was able to set my three climbs on the 3rd September.
I have gained a wide range of knowledge as well as connections through this project. From talking to para climbers and setters from all across the world, to gaining an insight on the amazing climbing community Australia has. I have learned so much about everything that goes into route setting, and subsequently been introduced to the world of para climbing and setting. I have delved into the community aspects of the climbing community and looked into the psychological benefits of it as well. This has taught me so much about the importance of rock climbing and how it can be beneficial in so many aspects of society.
I have been here at SVSS since kindergarten, except for when we moved to Germany for a year, but even then I was in a Steiner school. I have gained a lot from being a Steiner student and so much of the person I am today owes to what Steiner has taught me. Steiner education has allowed me to be creative and learn interesting subjects in the most unique ways. It has taught me to work independently and think outside the box when I face a problem.
I have enjoyed many Main Lessons throughout my schooling at Steiner, but one that really stood out to me was the recent Economics and Ecology Main Lesson taught my Dave. It taught me so much about the practical world that I am stepping into, and what we need to change if we want to move towards a sustainable future. I learned about how the world around me works, and I really value everything learned throughout these three weeks.
My favourite camp to date was the Outdoor VET elective camp that we did in Year 11. The camp was with a small group of people and let us be independent and learn so many outdoor skills. I gained so much knowledge from that camp and my love for climbing really grew from that experience.
One of my favourite school experiences to date was my student exchange to Germany in Class 10. I had an amazing time travelling to Germany for three months during the wintertime. I was able to meet so many new people and I developed a strong bond with my exchange Ruben. I spent my time Snowboarding and having experiences that I will never forget.
Samford Steiner has taught me to be curious and always question the information we are posed with. It taught me countless meaningful subjects and has given me incredible experiences right from the start of my schooling.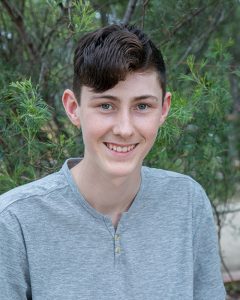 Callum Winkworth
Callum is a motivated and hardworking student who excels in both academic and sporting activities. As a very active person with a passion for the outdoors, Callum has a SRP that showcases his talents.
My SRP statement is "The design and production of a composite frame". My idea is to design and produce a Mountain Bike frame. This has already changed my perspective on the whole production of a bicycle frame. My design process is composed of angles and lengths I have researched from other bike companies and drawn up on paper before the production process begins. It starts with the making of jigs and is followed by the use of a hot wire to cut the foam to shape. After this I will insert the foam into the jig and fibreglass the frame before painting it. I hope to gain a better understanding of the production of bike frames and appreciate the amount of thought that goes into a frame.
I have learned so much from the process of my SRP, from understanding and appreciation of bike designs to precision tooling used to make high end frames. I have also learned my way around the tools used in wood working and fibreglassing just to name a few.
What is a Steiner student? I have found the Steiner schooling has made me happier as a person in my whole life. This could be from the teacher being more personal or the teaching curriculum.
My favourite Main Lesson is one we have been recently studying, Economics and Ecology, which I am very much enjoying. Learning about money and how it works is fascinating to me and I can't wait to learn more about it.
Without a doubt, sailing camp was my favourite camp at the school.
My favourite experience at SVSS is probably the Outdoor Education program, with our excursion to Mt Tibrogargan being my top experience, closely followed by the sailing camp. During our excursion we climbed up the mountain in teams of three, it was an incredibly gruelling experience and a lot of people found it very difficult, but I found it very rewarding.
SVSS has given me a fun environment in which to learn.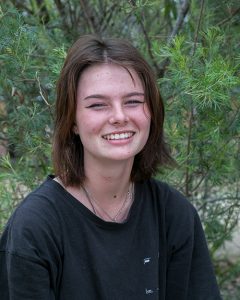 Keeley Smith
Keeley is a calm person with a relaxed approach to life that makes her steadfast and hard to ruffle. She is a steady worker who consistently chips away at projects. Keeley is kind, mature and confident and always shows up as herself with honesty and integrity.
The theme of my SRP is about judgement and how it relates to society. I have looked into how our judgements are formed and how these effect people's behaviours to others as well as how being judged makes people feel. I've found that people have a lot of subconscious conditioning that effects how they view others, such as stereotypes or social hierarchies that they put out into the world without even realising it. I did some focus groups and held interviews with people to see what situations they felt judged in and how this made them feel.
I feel that the project has deepened my understanding of the topic and how people's minds work. I've realised that everyone judges everything, but it is influenced by unwritten social rules and hierarchies and hostility is the variation. All people judge, but some judge things more harshly than others. On a personal level, it was hard for me to find direction and settle on a topic, I picked a couple of other topics first but they didn't grab me and I lost quite a bit of time. It's hard to find a topic that you connect to and can hold you for a longer project.
For me, being a Steiner student has made me feel supported to be myself. I feel like I have found the person that I am because I was encouraged to know what I felt and thought about things.
My favourite Main Lesson was Art History. I came from a mainstream school before I came to SVSS and Art History was the first Main Lesson I had taken. It was really fun and Samuela was so loud!
Sailing Camp was the best camp for me. I enjoyed just being in the boat and sitting there and watching the scenery, it was pretty and relaxing.
A stand out experience at SVSS was when we went to Melbourne on Arts Camp. It was just having everyone together that made it special for me. I remember sitting outside when we were waiting to go into the Arts Museum and everyone being together, even our exchange students. I am not sure exactly how to describe it, but it just felt like everyone was really enjoying the moment.
I think my whole experience at SVSS was just very interesting. I had a lot of varied experiences.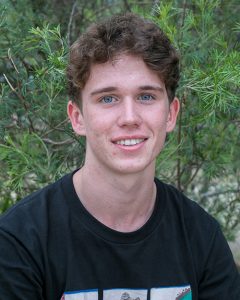 Aidan Sirl
Aidan is a skilled musician and dedicated about his passions. An intelligent student who is inquisitive and capable of acute observations with a sprinkling of humour.
My question is "How can we improve housing in the future?" I looked at the problems with housing currently and investigated solutions to those problems. Some of the issues I came across were things like materials being not sustainable or ethical, or being shipped from overseas which has environmental issues. It's also things like how houses aren't built to passively heat and cool. I've looked at this with quite a broad focus, as there are lots of different issues but also a variety of different solutions. For my practical, I have designed a small house that addresses some of these issues as an example of what houses could be like in the future.
I have got a much better understanding of housing design and what goes into the building of a house. I was surprised by how many housing designs were not ideal and built without addressing issues or without thought to the impacts on the environment.
I know I am a Steiner student because I try to question a lot of things instead of just taking it for granted that it is right. I try to work out how things work and why they work the way they do. I think it's made me a critical thinker.
A favourite Main Lesson for me was the Astronomy one we did recently. I enjoyed learning about space and the cosmos and the way it was taught. Dave is a great teacher and his lessons are always liked.
My favourite camp was the Arts camp to Melbourne. It was such an experience to go on a plane with the whole class to somewhere totally different. I had never been to Melbourne before either so that was just fun to share that experience with my class.
An experience I remember strongly was on one of the camps when we got to the top of Mt Barney and we were getting our dinner ready and just having a really good time. It wasn't anything specific, I guess just the elation of having finished the camp, feeling like we had accomplished something and having completed so much walking. We were making food and laughing and joking together and just having a good time.
It's a tough thing to sum up my experience at SVSS in just a sentence, especially when you have been at the school for your whole life, but I would say that my experience here was challenging but rewarding.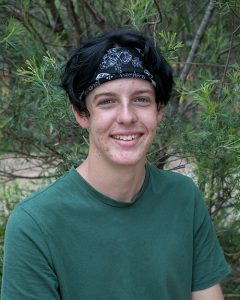 Daniel Kubler
Dan is a performer at heart who enjoys the spotlight and making people smile. He is sensitive and kind-hearted, with an empathetic core. When he is interested in something, Dan jumps in with both feet.
My question is about how method acting works in the acting industry and the effects it may have on the actor. I found that method acting works well in the movies, there is no doubt about that – but at what cost to the actor themselves? To examine that I have been looking at a lot of examples of when it works well and in instances where the characters are very unstable people and it's become dangerous to the actor. There are instances where actors have isolated themselves in order to transform into a character that is mentally ill, and the results have been detrimental to the actor.
I have really learnt that I am more capable than I thought when it came to sticking with a subject and that makes me feel a bit more confident in myself.
I have been here at SVSS since the middle of year 8 and came from a mainstream school before that. I feel that the school has helped make me more mindful and conscious of issues like climate change and looking after the environment. I feel like my whole attitude has shifted since being here and helped me get on the right track. I definitely think more deeply about issues now.
My favourite Main Lesson was Romantic Poetry. It's really stuck with me because I enjoyed making our own rhymes. I love music and the style of poetry felt like song lyrics to me. It was a fun lesson to be a part of.
The best camp for me was the Melbourne Camp. I loved the city, it had a totally different vibe to Brisbane – vibrant with life and the graffiti street art was amazing and adds this extra layer of character to the city. All our other camps are very nature focused and this one was so different being in the middle of a big city. It was a great experience to do something out of the ordinary and stay in such an awesome place.
Something I will always remember will be the Insect Play. We had a lot of fun practising and learning all our lines and the characters we were playing. I played the main character and the whole play was supposed to have taken place 'inside my head'. We ended up performing it in front of a lot of other Steiner schools. I think it was a really good bonding experience for our class and in the end, it was also really rewarding to have been able to pull it off and learn all our lines and work together.
My experience at SVSS has been life changing. Aside from just growing up here, my attitude has changed and my word views have deepened.