2021 Project Presentations – Friday 15 October and Saturday 16 October
As the year progresses, this page will be updated with information on the individual Projects, as well as more detail on the Presentations. In the meantime, below are the profiles of the 2020 Year 12 students and the projects they researched.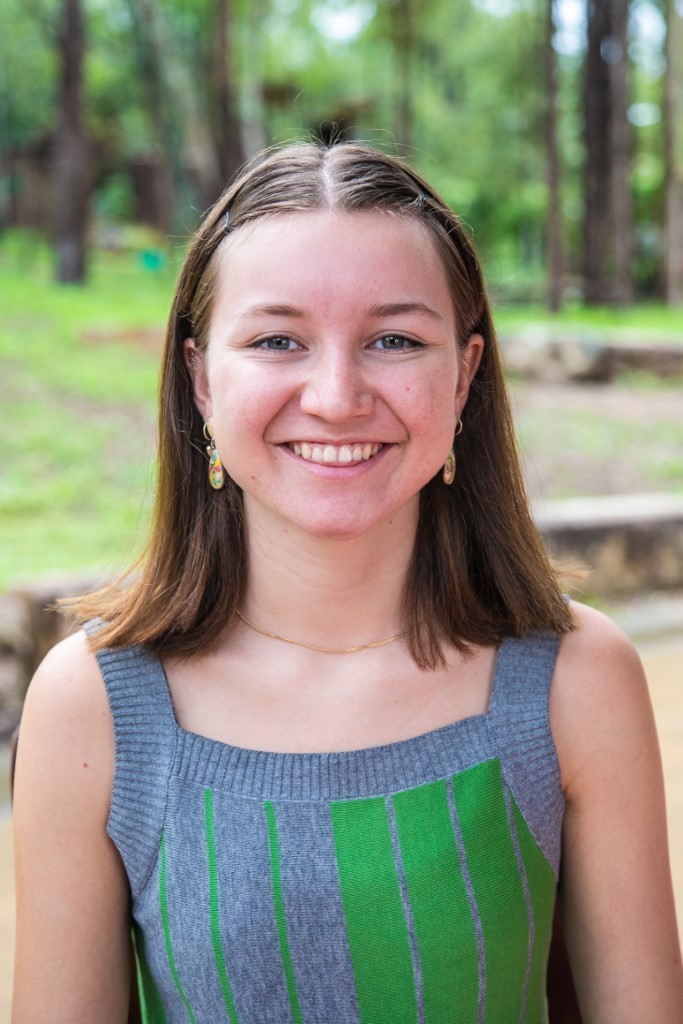 Lucca Fawcett
Lucca attended SVSS from Kindy (2007) to Class 4 and then returned in Class 7 in 2015. She has a deep sense of care for the environment, her friends and those around her. Her smile is infectious and is often on her face – when she is not smiling it is probably because she is deep in thought.  She shows interest in the other as well as the environment displaying maturity beyond her age.
For my Senior Research project, I am looking at the question "How can I create awareness of the damaging social and environmental impacts of the fashion and textile industry and inspire change in consumer behaviour?"
The fashion industry has become a major environmental and social issue over the past few decades. The global fashion and textile industry has huge problems with waste, pollution and human rights abuses. It has been estimated that the fast fashion industry is contributing 10% of the worlds carbon emissions, making it the second most polluting industry in the world, second only to the oil industry.
Like most teenagers, I love fashion, but I also care deeply about the planet, people and animals and I want to live in a world that is sustainable, ethical and fair. Fashion helps shape our identity and what we wear reflects who we are and what we stand for. I need to know that my clothes do not harm our planet or its people. I need to know about the conditions in which my clothes are made, the resources that have been used and the impact they've made on communities and individuals.
For the research component of my project I am exploring the major social and environmental issues within the fashion industry. I have collated information on these issues through a variety of different sources, including two online educational courses with Future Learn in addition to working with organisations such as Fashion Revolution and interviews with leading activists in the field.
Before starting this project, I was completely unaware of the exploitation of planet and people involved in creating the garments we all buy and enjoy every day. As I delved more deeply into my topic, I was horrified by the way the current fashion model operates and these revelations have motivated me throughout the year to change my own behaviour and think about ways to inspire others to do the same.
One of the central tenants of my question is to inspire change in consumer behaviour. I believe that the best way to inspire change is through education and stirring emotions, once people grasp the extent of the problems and how they are contributing to it, they are more likely to change their behaviour. To raise awareness and educate people on the issues surrounding the fashion industry I participated in Fashion Revolution Week. To inspire change I have reached out to the broader community through a variety of social platforms asking them to write a 'Clothing Love Story'. I asked people to think of their most loved piece of clothing and write a love story to it or recount a fond memory attached to it. I am collating these stories and images and putting them into a book for my practical. I have decided to make this book in an attempt to inspire others to commit to a long- term relationship with their clothes, to cherish each piece and to love what they already own.
To date I have gained a far deeper understanding of the impact of my decisions as a consumer. At the beginning of my project I had a very different view of what sustainable fashion was, and through the course of the year my projects focus has evolved as I slowly learned more and formed stronger opinions. For example, at the beginning of the year my practical was going to be crocheting bikinis out of sustainable materials, however, it soon became clear to me that what we really need is to stop producing more. I believe that loved clothes last and looking after our garments is the way to a more sustainable future for fashion. I have also gained many communication skills throughout the year. I learnt to be self-directed, how to interview, how to brainstorm and how to ask for help when I needed it. Receiving the Love Stories has been the highlight of my project, it has been so interesting hearing how peoples clothing holds so many memories and discovering the reasons why people hold onto them.
I know I'm a Steiner student because of the loving and supportive community I am surrounded by. I have had the freedom to pursue my interest in art in a creatively inspiring environment. I feel as though I have been treated as an individual and that the staff genuinely care for the wellbeing of each student. I have many fond memories of my schooling and have never felt out of place or unwelcome. The Steiner education is one that offers kindness and compassion for children as all education systems should. I feel a deeper connection to my actions and how they impact my community and environment as a result of how the school influenced my development. If I ever have kids, I hope they will have the opportunity to attend a Steiner school and receive the beautiful education I experienced.
The Main Lesson I remember fondly was the History of Art we did in Class 9.  I remember this Main Lesson particularly because it is what really sparked my interest and love for creating and analysing art. I put a lot of effort into my book and thoroughly enjoyed the process and skills the lessons gave me.
My favourite camp to date has to be the Mount Barney hiking camp in Class 9. Although it was arduous and physically demanding it was such an amazing adventure. I loved swimming in the Upper and Lower Portals, being immersed in the beautiful surroundings and working together as a team. Everyday felt like an achievement and I look back on those memories very fondly. Finally getting to the top of the mountain was an incredibly proud moment, looking back on how far we had come was amazing!
An experience that I enjoyed and has stayed with me is the last day of Brisbane River camp. We woke up early to watch the sunrise from our boats and the rain had finally subsided. Everything was so quiet; it was beautiful to be out on the water so early in the morning and see the world wake up.
My experience at Samford Valley Steiner School has been loving and kind. I am lucky enough to have been surrounded by an incredible community who has helped me develop my intellectual, artistic and practical skills in a nurturing environment and which I am so thankful for.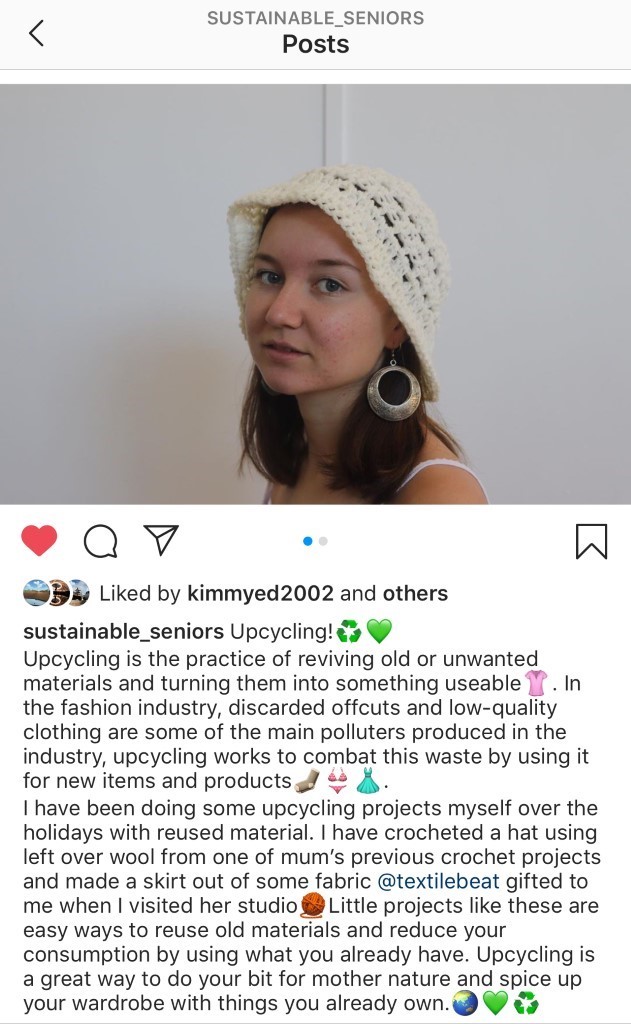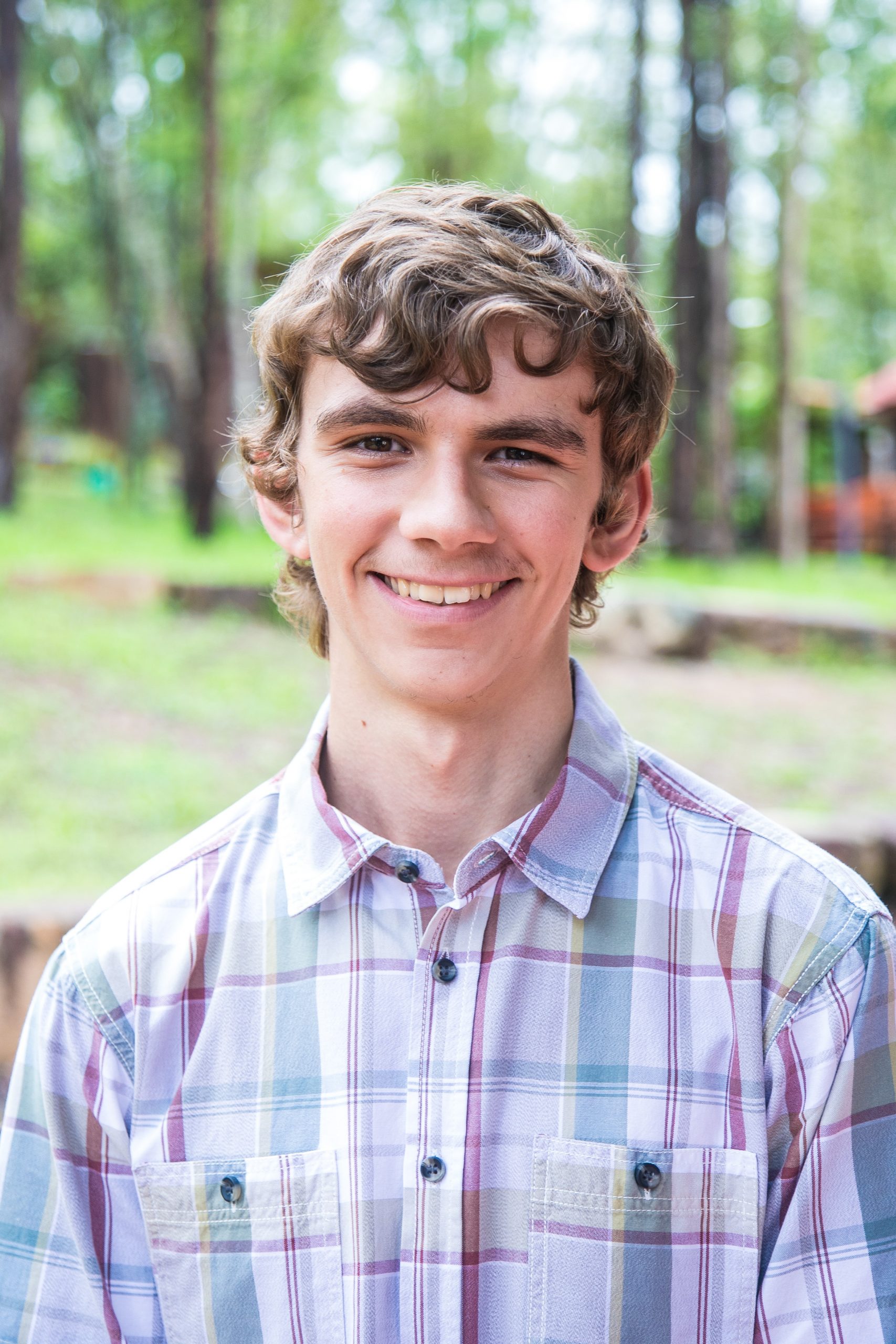 Jack Hewitt
Jack has been at SVSS since the start of Kindy in 2007. He is a very determined, kind and thoughtful young person. If he sees someone needing assistance, he is one of the first to step in – whether it is a staff or student, he notices and then steps in. He is a person who places enormous expectations on himself, this shows through his strong work ethic. Jack is responsible for many of the Eucalypt trees that are popping up on the school boundary as well as some of the creek bed areas of Samford. He does this out of a deep care for them (as you will read below) and the importance they play in our environment. The love and care he puts into the many seeds he has propagating is enormous and I am sure will shone on through those tress as they grow.
For my project I don't have a question but rather a theme which is Eucalypts' beauty and importance. I wanted to show the beauty and importance of eucalypts so I decided that I would make a short documentary about them. I've looked at the beauty of eucalypts partly through my connection to them but also through their astonishing diversity – there are around 900 different species of eucalypts, across which their characteristics (e.g. flowers, leaves, bark, and fruits, growth habits) vary greatly. I like using photography and film to more closely capture their 'real' beauty as opposed to an interpretation (like a painting etc), although I've discovered that the only way to really experience their 'real' beauty is to experience eucalypts first-hand.
I've looked at the importance eucalypts through their importance to people and their importance in the environment – such as supporting biodiversity and maintaining essential ecosystems, as well as quickly skimming over the ways in which they are necessary in the economy.
My project is about eucalypts and not about film making although the making of my short film has been a very important aspect of my project.
To date I have gained a base line understanding of film producing and a deeper understanding of the importance of Eucalypts in various ways. I have also gained the confidence to contact people who can assist me with my project – people who are not previously known to me – which is a skill I think will be very useful at times. I have also discovered that I am interested in film making and this is something I would like to pursue further in the future.
I know I'm a Steiner student because of the sense of community, because of knowing the staff on a more personal level, and because my friendships extend beyond my classmates. I also know I'm a Steiner student because of how I've been taught to think about things, to feel and to question things. In year 12 I've to come to a deeper understanding of the level of thought and care that goes into the curriculum and the education we receive as Steiner students.
A Main Lesson I really enjoyed was our Astronomy Main Lesson (Class 12 Main Lesson) because of what I learnt and the discussions we had about astronomical phenomena. i.e. how our solar system works and the enormity of the universe as we know it. It was all so amazing and astronomically huge, or in some cases extremely small considering the size of our planet compared to the size of our solar system, to the size of our galaxy, and to the size of the observable universe.
I've enjoyed many of the camps, despite some of their character-building qualities at times. I think one of my favourites was the Class 11 Sailing camp. I really enjoyed sailing in Morton Bay and visiting Peel and Stradbroke Island. The scenery on the camp was so beautiful and the places we visited felt special. The people attending the camp (students, staff and support crew) made the camp even better through working really well together and creating a wonderful atmosphere.
One of the stand out experience I have had has been In PE. I really liked that I was able to have a taster of a wide variety of activities. The one I enjoyed the most was probably circus and it's one that I will always remember. It was heaps of fun, it's helped me continue to extend my juggling skills (juggling was something that I already liked) and was great for team building. Overall, it was a really positive experience.
Because I've been at SVSS all my schooling life, it is not easy to sum up my experience here in one sentence. Reflecting on my years here, I have a sense of belonging and feel part of the community. I've been encouraged to be myself and my love of nature has been nurtured along the way. I'm so grateful for having been at SVSS for all my schooling, and for all the people that have been with me along the way.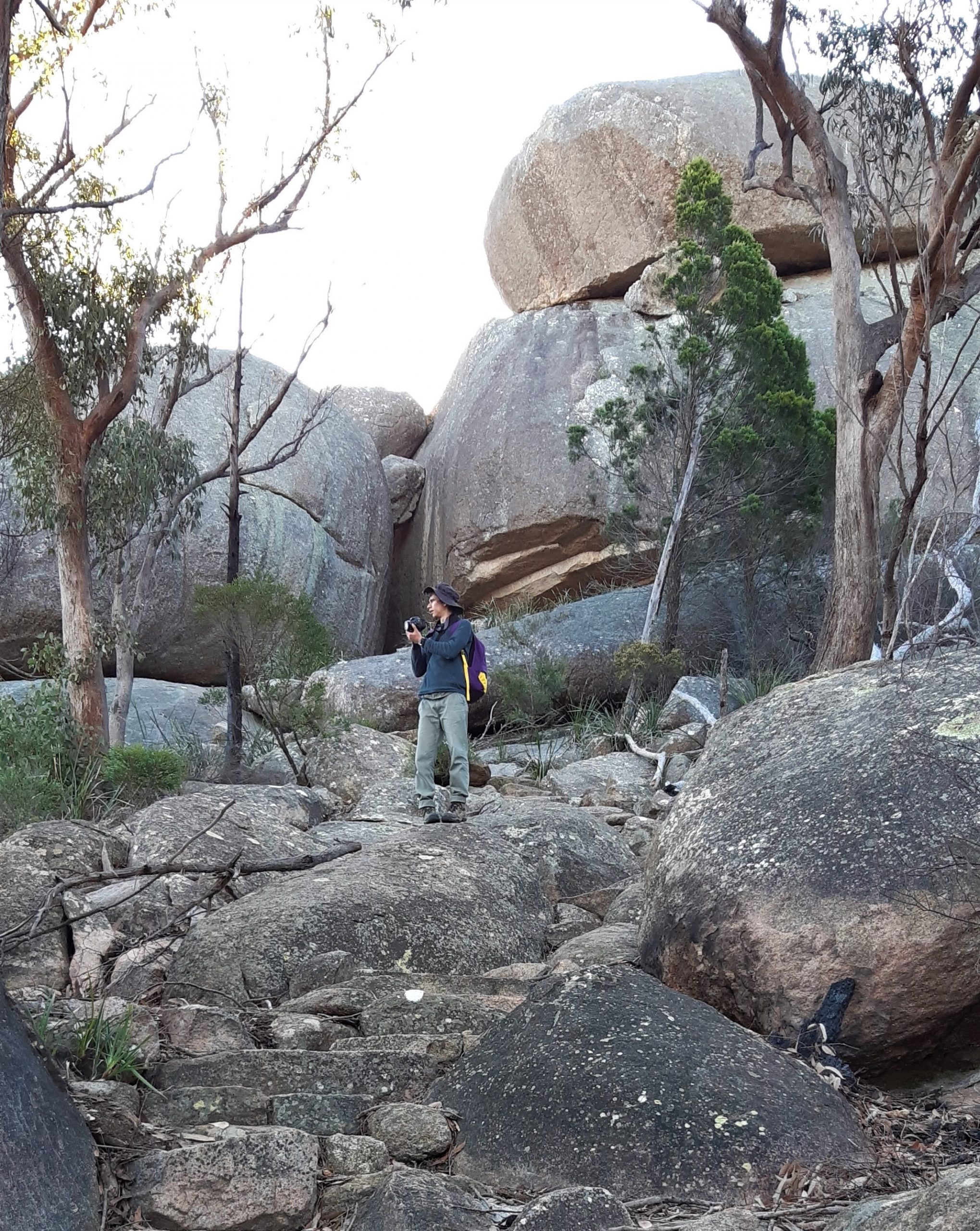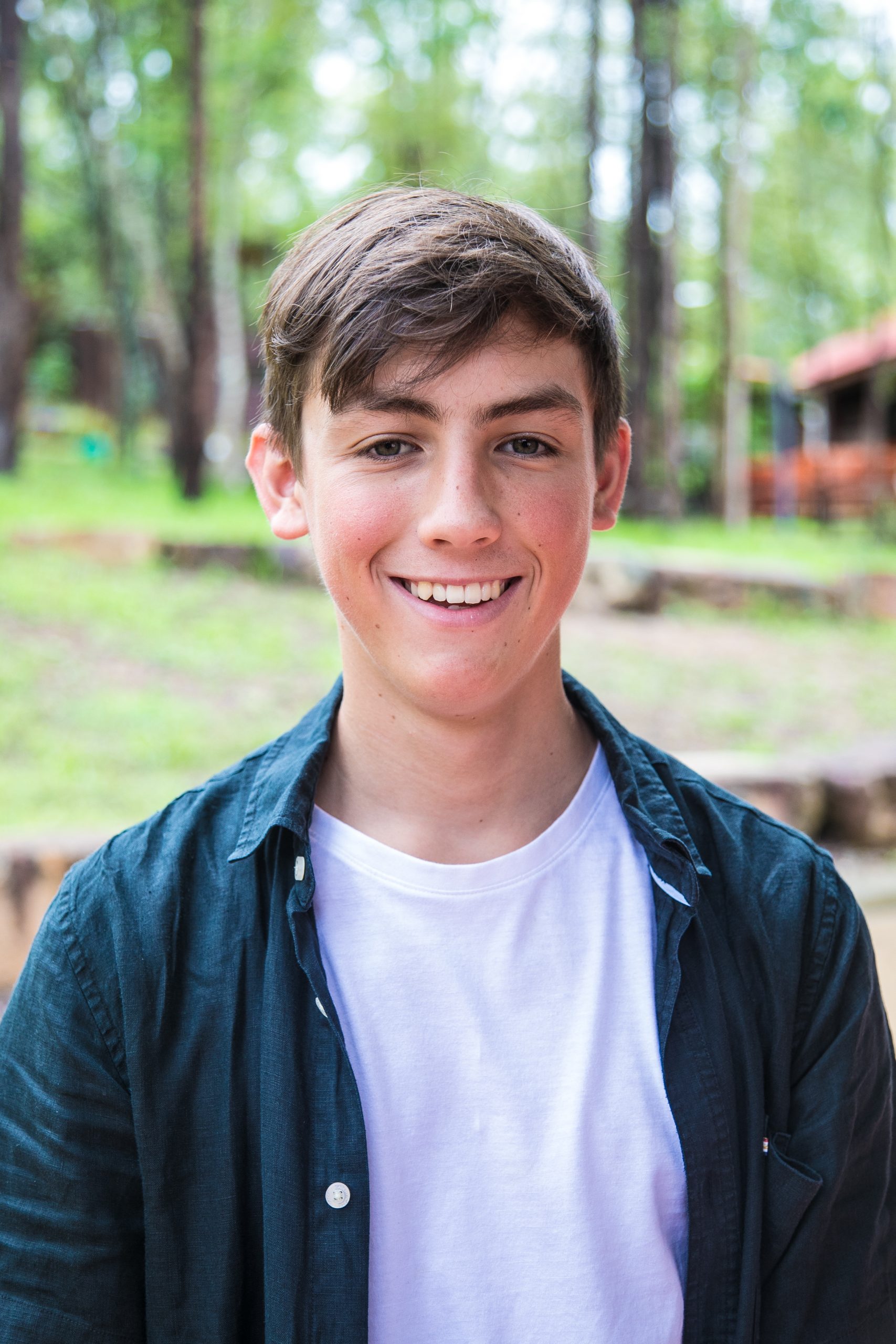 Oliver 
Richardson
Oliver  came to Samford Valley Steiner School from Orana Steiner School in Class 5. He has grown steadily in confidence and his presence at school festivals or events is noticed and appreciated. He often steps in to help before being asked to help. His smile, enthusiasm and kind nature enables him to contribute positively, not only to his class group, but the High School student body as a whole.  
My questions is 'plastics in our local water ways and what we can do about it' .
I have looked at this by attending several hardcore river clean ups with Ocean Crusaders as well as researching the environmental effects of plastic waste. Ocean Crusaders is an Australian based not-for-profit clean up organisation that works all over the world cleaning plastics out of our waterways. This year alone Ocean Crusaders have collected just shy of 100 tonnes of plastic out of Australia's waterways. Just in Bulimba creek, where I attended hardcore cleans up, we collected an excess of 15 tonnes of plastic that would otherwise release toxins into our waterways. 
As part of my project I will be hosting a community Kayak and Land Clean–up day on Sunday 20th September at Nudgee beach boat ramp, this event is a community event to raise awareness of the growing issue of plastic pollution.
To date I have gained knowledge into how society consumes plastic and the effects they have on the environment. I have been exposed, and consequently made more aware, to the reality of plastic waste during the clean-ups I participated in. This has led to me being more conscious of my own consumption of one–use plastics. 
I have thrown myself physically and mentally out of my comfort zone which has given me confidence in my ability to contribute to teamwork, as well trust my physical ability to participate in the clean ups. 
As a result of working alongside Ocean Crusaders and Ian (my mentor), I have been offered a job next year to expand his operations up at the Sunshine Coast. 
I know I am a Steiner student because of the community I feel connected to. The sense of community has been one of my major highlights of my schooling journey – as I have felt supported in every aspect of my education. I have not only been educated in how to function in a modern-day society, but I also have gained the confidence to be who I want to be and follow a path that can have purpose.  
One of the Main Lessons I remember fondly is the current Main Lesson which is Economics and Ecology – I find it highly relevant and interesting to understand how our modern world operates. As I am getting ready for post school life, I will be using this knowledge to help me find my way. This main  lesson has helped me understand terms and concepts that otherwise would fly over my head. 
My favourite camp was the Sailing camp in Class 11. This camp was part of my inspiration for my SRP. On this camp we witnessed the effects of rubbish, especially plastic, on the sea life. We came across a dead turtle in a pile of rubbish, this was upsetting as you could see the destruction of its home from our waste.  We ended up collecting 250 Kg of rubbish – it felt good to see a group of people come together for common cause and to see the before and after off the shoreline. 
The experience I remember strongly is participating in The Youth Conference in 2019 – I loved meeting and being in a bigger group of like-minded people, other Steiner students. It gave me a larger social connection. 
My experience at Samford Valley Steiner School has been a journey and only now am I starting to see the path that the education has created not only in where we go but who we are. As I have developed through the years, I have not only become more confident in my own abilities, but I have made friendships and connections that I can't begin to describe and for this I am ever grateful.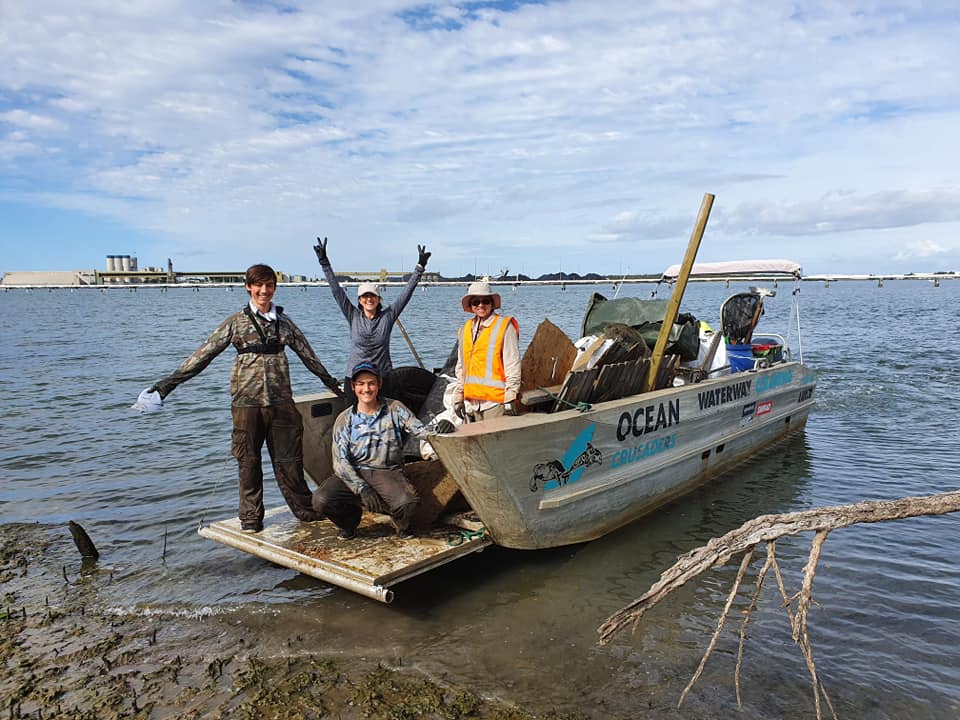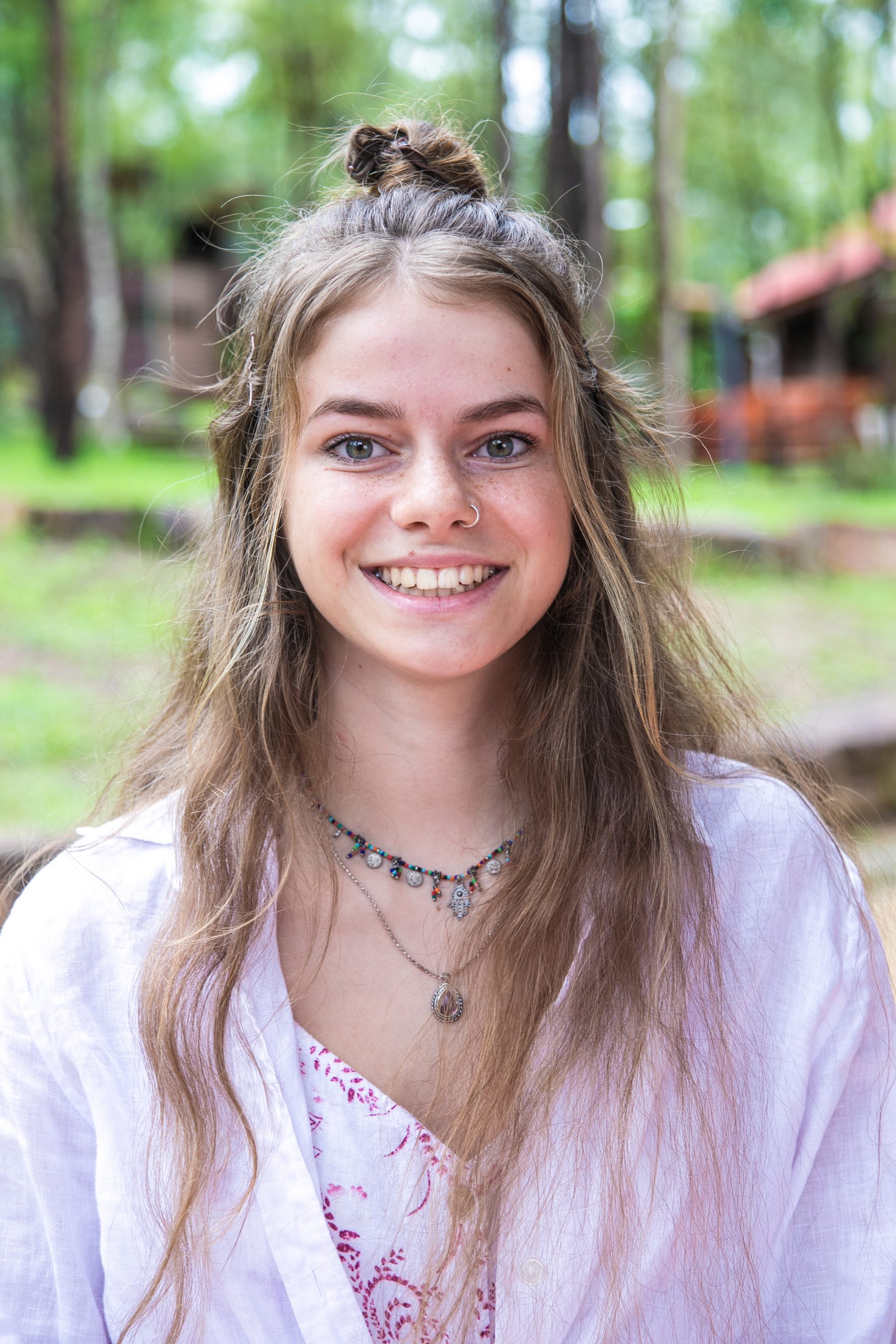 Tahlia Wallis
Tahlia came to SVSS this year. She previously attended Collingwood College in Melbourne from Class 5 to Class 11. This is a Steiner stream school up until year 11 and in year 12, it becomes VCE. She has been a great asset to the class with her bubbly personality, her positive outlook and her general care for the other. In her short time at SVSS she has made a very warm impression.
My question is: how can music bring people together and what are the psychological effects of social isolation?
To look at this question I have gained insight into other people's isolation story through a survey that I sent out earlier in the year. I had my question and theme prior to COVID 19, and since COVID I have experienced my own isolation experience which gave me more insight. I have been inspired to do this project to understand how people cope with social isolation.  My inspiration has changed as the year has gone on and now, I am looking more at how to bring people together after the COVID 19 experience, using music as a tool to bring them together.
From the survey and personal experience, I have been able to write 4 songs about social isolation and other personal stories. This has created my EP (practical side of my project). I am now using my music to bring other people together – my EP will be launched in early October, click on link for the details Reclusion Launch.
https://www.triplejunearthed.com/artist/tahlia-0
To date I have learnt a lot of music production skills through the recording of my songs, as well as the research on music and I have also been focussing on early childhood and the importance of touch. I am starting from the very beginning of one's life to the very end in my thesis and outlining the impacts music has on humans in all stages of life.
During the production week I had learn to dig deep and put aside my exhaustion and any feeling of stress. It was a long drawn out week and I was completely depleted of energy by the last day – emotionally and physically. I did learn to accept that I am not a professional musician and the result is not perfect, yet it was very rewarding to do.
The research has given me knowledge and tools to manage my own loneliness when I was going through quarantine – either playing or listening to music helped.
I know I am a Steiner student because I have grown up in a warm environment, sheltered by my parents as a child and was given independence and responsibility as a young teenager. I also notice the connections with people in the community, between teachers and students – it is very different to a State school. It is a more personable relationship.
The Main Lesson I remember fondly is Anatomy in year 10, this started my interest in the human body, since then my interest is grown to the point where I am pursuing a career in anthroposophical nursing. I really enjoyed the drawings of the organs and the systems – this was the beginning of learning to take time with my artworks.
My favourite camp has been Farm Camp. I really enjoyed this camp that we did in year 10 (Collingwood) because we were outside the entire time with animals, biodynamic foods and we spent some time at different biodynamic dairy farms – this reminded me a bit of my childhood as my dad has a farm.
Rock climbing and surveying camp are close to the top – both physically and mentally challenging but also very rewarding and gave me new exciting skills i.e. abseiling.
The experience I remember most from my education is the time with my high school band that I was a part of in class 10 & 11 – it was called Mannequin Man – and we played regular gigs in the school and the community – they were really fun and beneficial for my musical journey.
My experience at Samford Valley Steiner School  has been an incredibly welcoming and supportive community as a new student to the school in Class 12.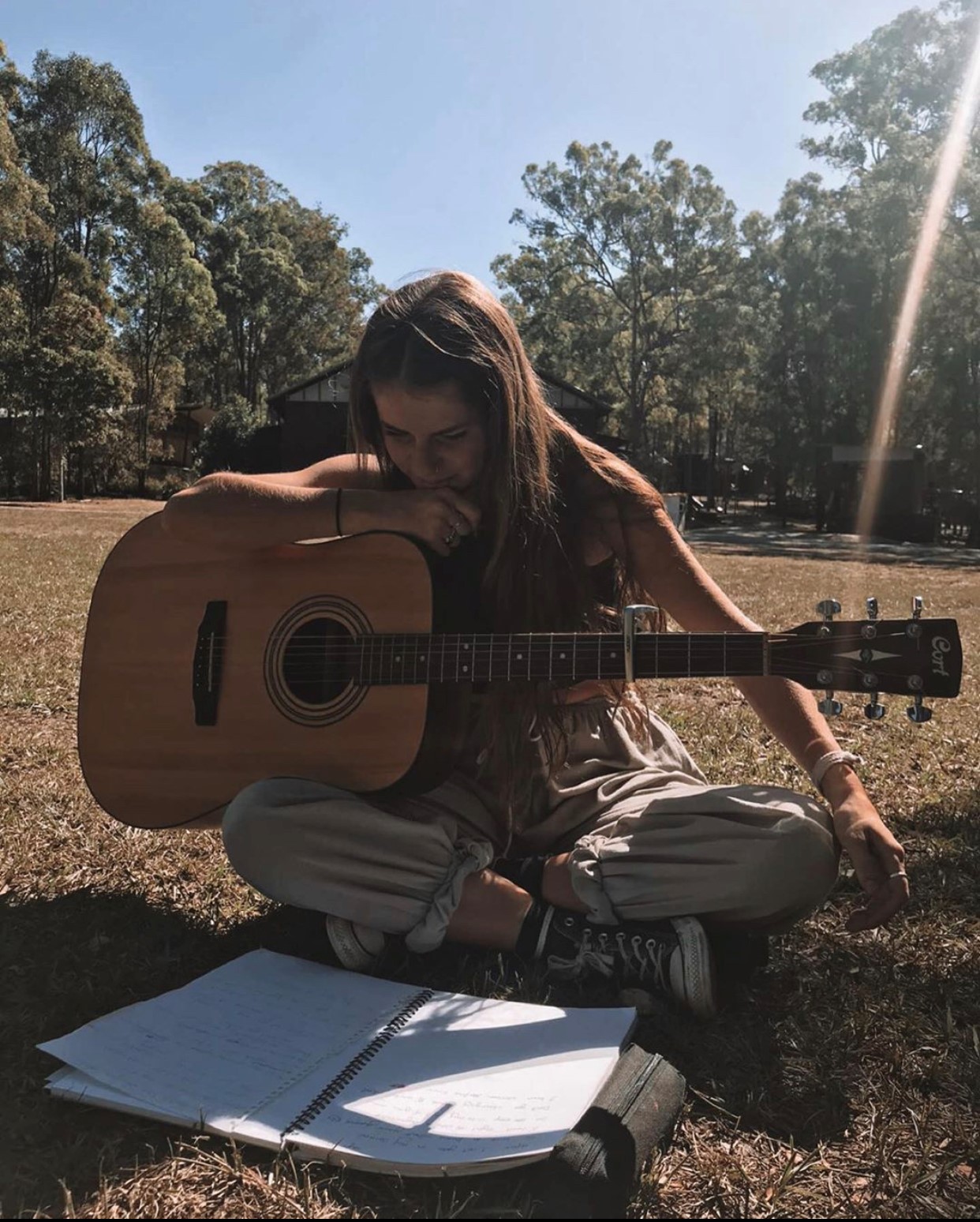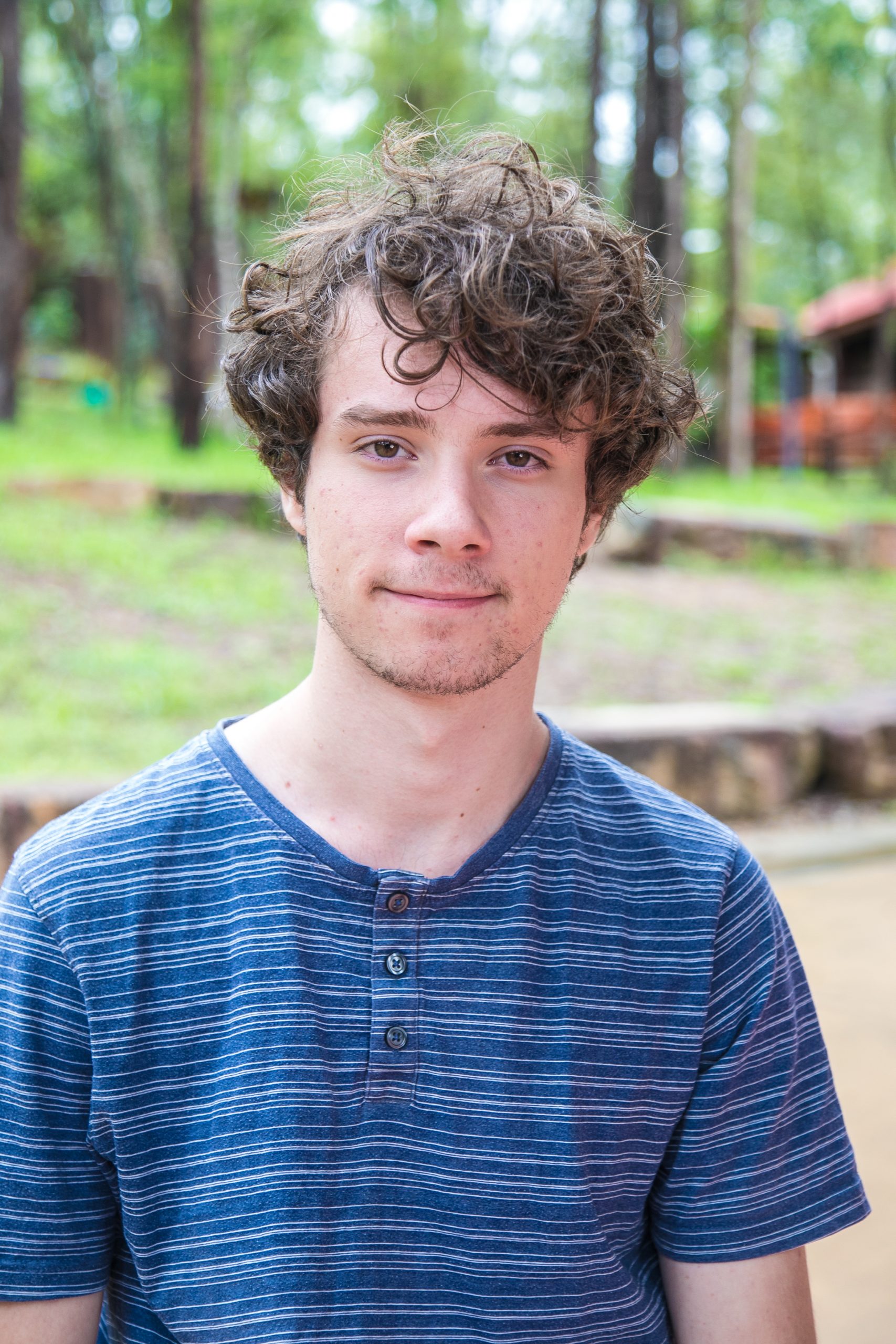 Angus Spark
Angus started at Samford Valley Steiner School in Class 6. He is one of the quieter students who is now stepping into more confidence. He has grown into a very mature and articulate young person who looks out and cares for his mates. He is a keen and capable soccer player and can often be found on the court during break times.
The theme I am looking at for my SRP is looking at people who have interesting careers, to understand their journey as to how they obtained their job. I researched this by conducting interviews asking questions about post school options, the pathways they took that led them to their careers.  I chose this topic as I was not sure of the direction I wanted to take after school and thought that this would be a good way to explore options and see what types of areas may interest me.
I felt it would also help my classmates as we all seemed to be in the same position, some had an inkling of what they were interested in but most of us were uncertain.
To look into this topic I conducted interviews which I then created a podcast series from, the series is titled Into the Pool.  I have interviewed 15 people, 10 of these have been published . Please click the link to listen to these podcasts. https://podcasts.apple.com/au/podcast/in-the-pool/id1528943294
I have also been studying a Certificate III in Media and Screen during the year at Tafe Brisbane, this has helped me with the creating and publishing of the podcasts.
To date I have gained more confidence in approaching and talking with people. I have gained a good understanding of how to listen to their advice, the information they are sharing and putting it into a format that is publishable.  My interviewing skills have improved enormously as I learnt to define the questions I asked, to take initiative with these interviews and direct the conversation, persistence in obtaining interviews, and learning how to edit and publish the podcasts.
I know I am a Steiner Student as I feel like I am a part of a family – the connections between students and staff is a lot closer than I have noticed with other schools I have been at. I also think I have the capacity to deal with or process life experiences in a more balanced way, I think this comes from the resilience we develop through the curriculum and specifically the camp program.  The first few camps I went on it was difficult to get motivated to attend and as time went on I accepted they were part of the curriculum and they were beneficial to us in ways we were not aware of at the time.
A Main Lesson I remember fondly is the Class 11 Medieval History.  I was engaged and interested the whole time.  I enjoyed the content of the Main Lesson, the essay topic and am thankful for the support I received during the Main Lesson. I was proud of the work I achieved during this Main Lesson.
My favourite camp to date has been the Canoe camp when we canoed the Brisbane River in Class 9. I loved the experience of canoeing down the river, it was raining quite a lot, however as a class we worked well together and became closer throughout the journey. Our emotions ranged from chilling out and relaxing to having to dig deep and work through the weather conditions.
An experience I remember is the Youth Conference that we had in 2019, I enjoyed every second of it.
During my time at SVSS I can say the support has been incredible, this support stands out to me a lot, the teachers genuinely care about you and your work ethic and supporting you in meeting your potential. Often the teachers are taken for granted, I can see that in some people as I have come in from a State school.  Whenever I have stepped up and asked for help the teachers have been willing to provide the support, I am grateful for the time and support they have given me over the years.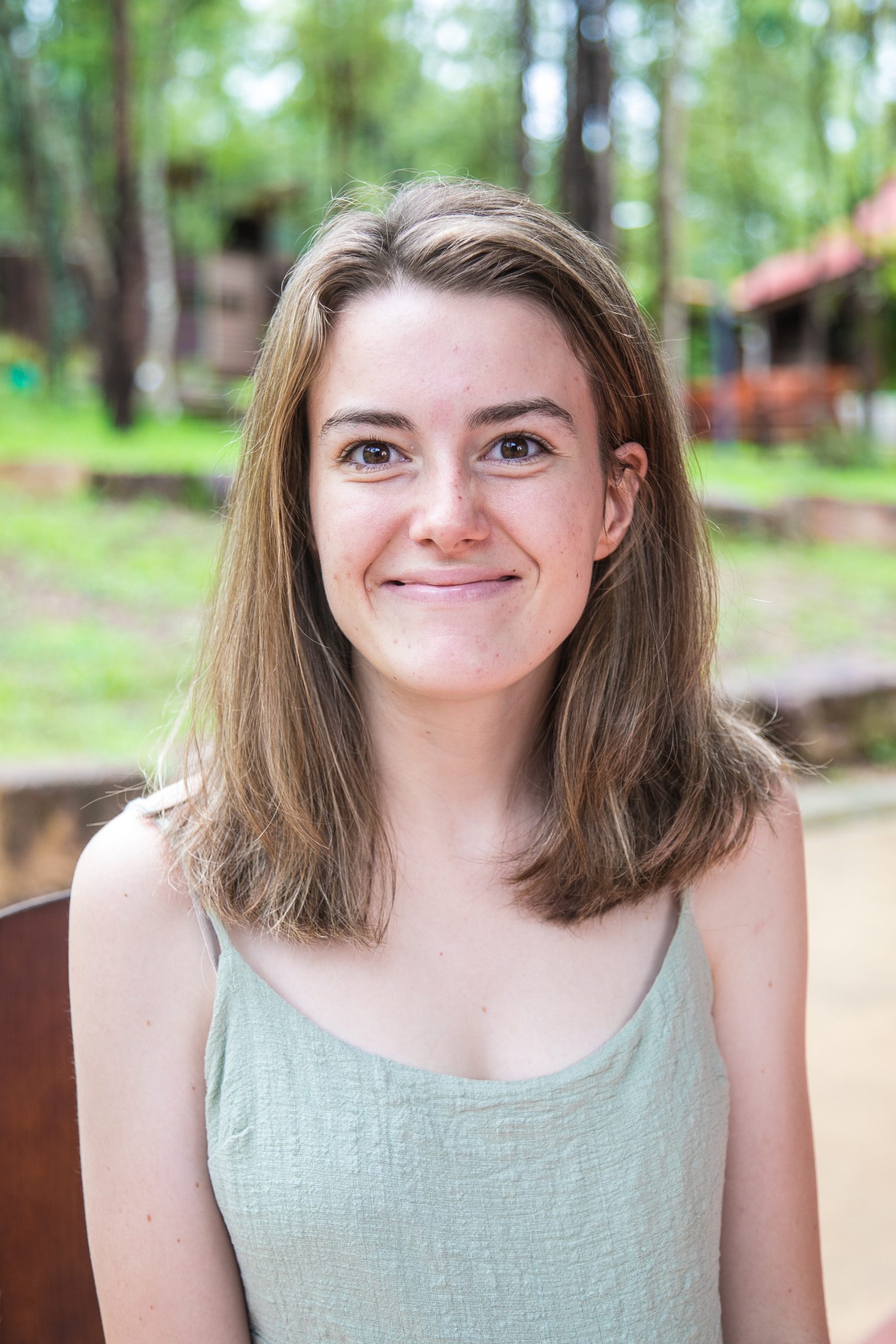 Breagh Gregory
Breagh joined in at the start of Class 10 and was welcomed warmly into the class cohort.  She is a determined (sometimes stubborn 😊) and bright spirit who can step into many challenging situations with courage.  She has certainly enriched the lives of those who have had anything to do with her in the last few years.
When compiling my research question, I struggled to put my overall project into a question. I had the option of using a statement, this was an option I gladly took when I completed summing up my project into just one sentence; 'An Investigation of Social Judgement and Discrimination in a Contemporary Society'.
This project involved interviewing many incredible and inspiring people who have suffered from social judgement and discrimination. For my research aspect I investigated the terms Social Judgement and Discrimination, researching definitions and how it effects those at the receiving end. I have compiled a book through interviews and research into this topic, titled 'The Discrimination Effect – on our own terms"
To date I have gained knowledge that I am capable of anything I can set my mind to. It has been a childhood goal of mine to have written and compiled a book before I become an adult. Knowing that I have achieved this task I am at comfort that I hold the power to do whatever I intend to do. That no mountain is too steep to climb.
I have gained confidence in communicating with people, especially as my experience in interviewing increased, the more I interviewed the more confidence I gained.
I have also gained time management skills, this skill improved throughout the year intensifying in the last term as we approach our deadlines. I feel these skills are important for me to gain in preparation for university life and the many deadlines that will come my way.
My computer skills have improved over the year, especially creating a book is all computer operated. I learnt to keep it simple and use all that Word had to offer.
Photography was another aspect of this project that I had to conquer as I wanted to take the photos of all the face to face people I interviewed.
I am currently learning to sell my product looking at branding, logo, invoices etc and believing in my work.
How do you know you are a Steiner Student?
Since being at the school I have noticed that I am more aware of other ways of looking at how we live and grow as an individual. I am more connected to those around me through direct contact as opposed to via email or social media, I am more aware of the other, and the environment we live in. I have also become more open to what lives in our natural world and the impact it can have on us – e.g our relationship with animals, stars, and the moon.
Can you name a Main Lesson that you remember fondly and why?
Class 10 Poetry with Dave Rule – Growing up I was a good creative writer, however poetry was not my forte nor my interest. Having a Main Lesson where we were encouraged to learn the art of poetry writing opened my eyes to a new way of expressing myself and how I feel in a particular moment in time.
What has been your favourite camp to date?
Surveying camp in Class 10 – this was my first camp at the school and we were away for 2 weeks. On this camp I enjoyed getting to know my classmates, meeting new people (Noosa Pengari Class 10 also joined us) experiencing camping life as a student. I enjoyed watching the Maths unfold and the outcome of the mapping at the end of the process.
Can you remember an experience that you enjoyed strongly?
Recently we did the Games of Courage, where all the High School comes together in our allocated teams and completed a circuit of games throughout the High School area. I enjoyed watching my team and classmates support and lead the younger classes. This day made me realise that with support, friends and a bit of guidance we are capable of anything.  
Describe in one sentence your experience at Samford Valley Steiner School
Back when my parents told me that I was joining school here at Steiner, I was convinced that I would not enjoy myself. Now, I that I have been at this school for a few years, I wish that I could have of joined this beautiful, caring and loving community at the beginning of my schooling life.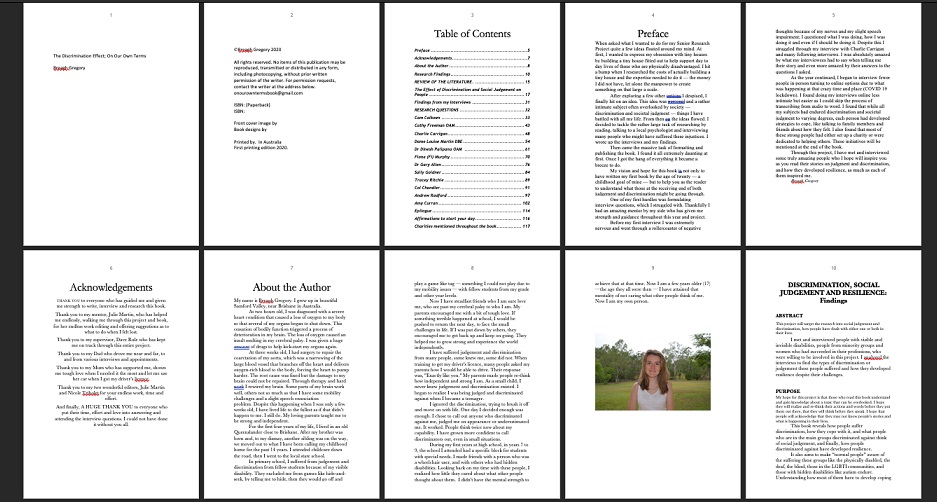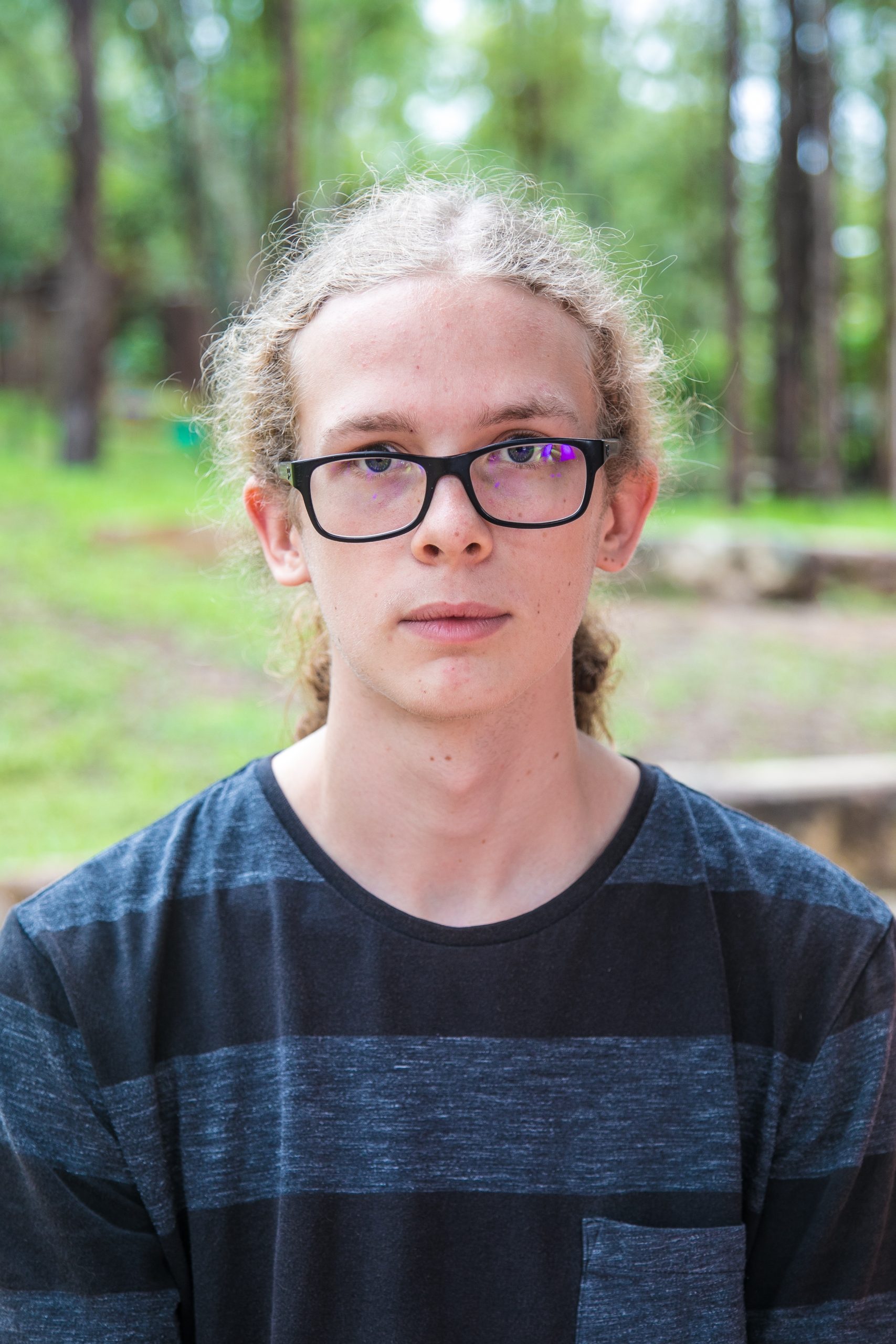 Shen Tribolet-Christensen
Shen was been at Samford Valley Steiner School since his preschool years, starting in January 2007. As you will see from his project, he can understand very complex concepts – whether it is in the computer programming world, Maths, Chemistry or Physics, he is able to make sense of the language. He is also very good with Drama, Hard Craft and artistic work.  He is a quiet, observant, caring, and insightful young man.
I am currently working with this question, "How can machine learning be used in automated text analysis?" I have been looking at this through my practical which is to find a way to apply this idea to a real-life scenario which involves writing a program to meet this question. I have been writing programs and the different steps they need to go through. Most of the programming is getting the language to work in a way the computer can understand – i.e. through numbers. I started with a map of what I wanted to do and the steps I need to go through to get this program to work. As I have been going through these steps I have discovered there are more steps than I realised. Once the program is finished however, I will still need to train it, as it works by comparing current information to past examples. This is done in my case by manually training the program using a database of information I have made. Most of this work I have been doing on my own, recently I have had support from a person who has experience in this area, who has became my mentor.  I hope to have the program complete by the end of this project.
To date I have learnt program language, become better at problem solving and thinking outside of the box, program writing is not as simple as I thought, it often takes from ½ hr to 1 hr to get it to work. I am learning to be patient and persistence. Also recognising when to put something aside and tackle it at a later time. My organisational skills have improved as I have had to break the program into parts and look at them separately but also in conjunction with each other – need to see the whole picture as well as its parts.
I know I am a Steiner student because of my tendency to map things out with a pen as opposed to typing it out – I still use a pen with my computer tablet to assist me. The fact that I am doing this project is also an indication of me being a Steiner student. I am able to look at and understand things in a different way – this is especially noticeable with this project where I do need to look at what I am doing from out of the box, in a more creative way.
I really enjoyed the Class 10 Chemistry Prac which was looking at acids and salts – this was accompanied with the Acids and Bases Main Lesson.
My other favourite was the Class 11 Chemistry Main Lesson – the Chemistry of Elements. I found this interesting and I was able to use the knowledge we had learnt to try and predict the next step of the experiments – trying to work out the problem before we are taught the solution.
My favourite camp to date was the Class 10 Surveying camp, it was a good camp – I enjoyed the process involved with the mapping and the hike at the end of the camp.  Class 9 Canoe camp would have been great except it rained.
I enjoyed our Class 10 production as well as the Class 12 production that I was involved with last year – I like the productions and the ability to be able to focus only on the one thing for a block of time and then bring this to fruition. I am looking forward to our last production at the end of this year.
My experience here has encouraged me to think for myself,  find out a solution myself before been given all of the answers – the way that the curriculum content is delivered is to present a question first and we work through this coming up with the answer before we are necessarily given the solution.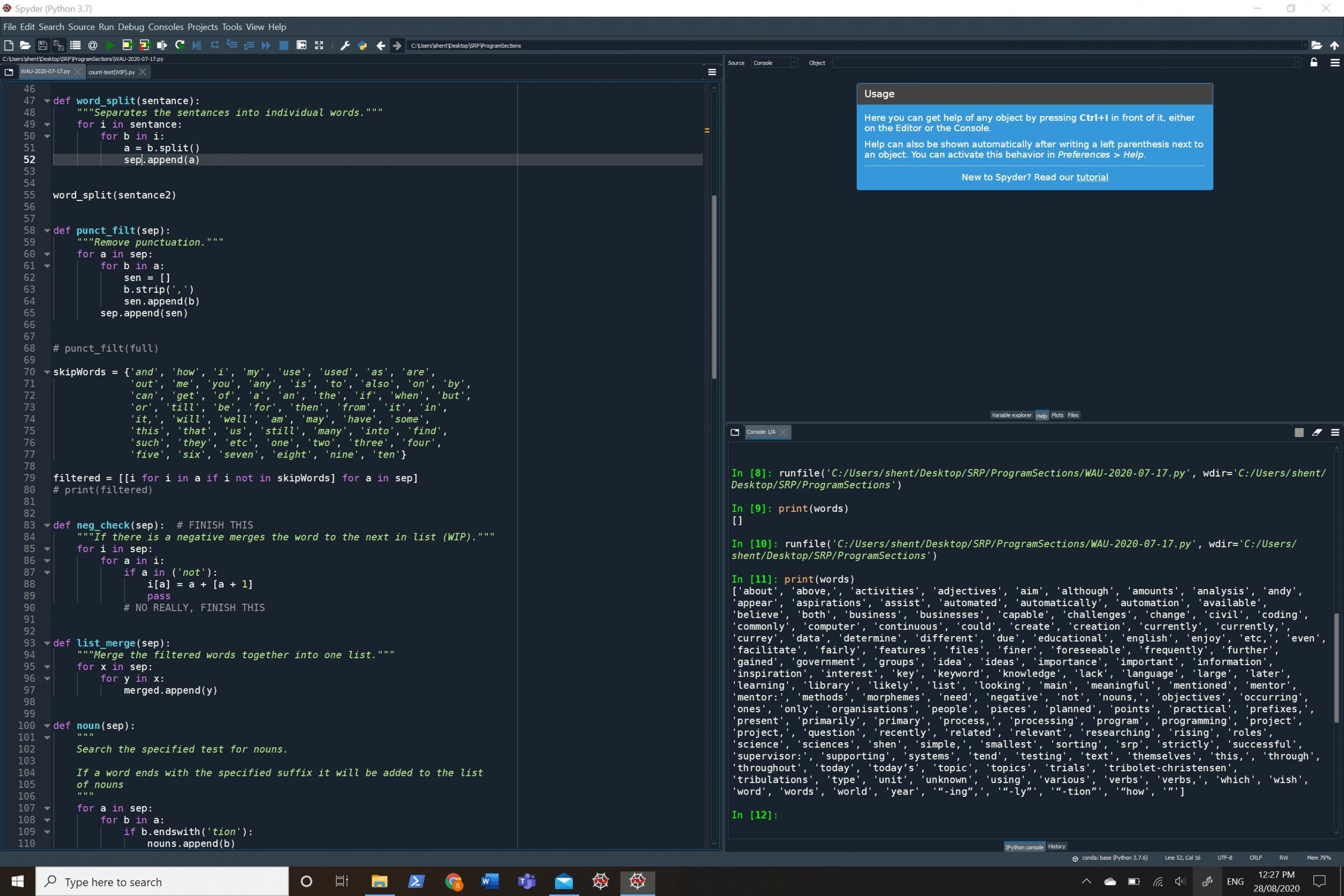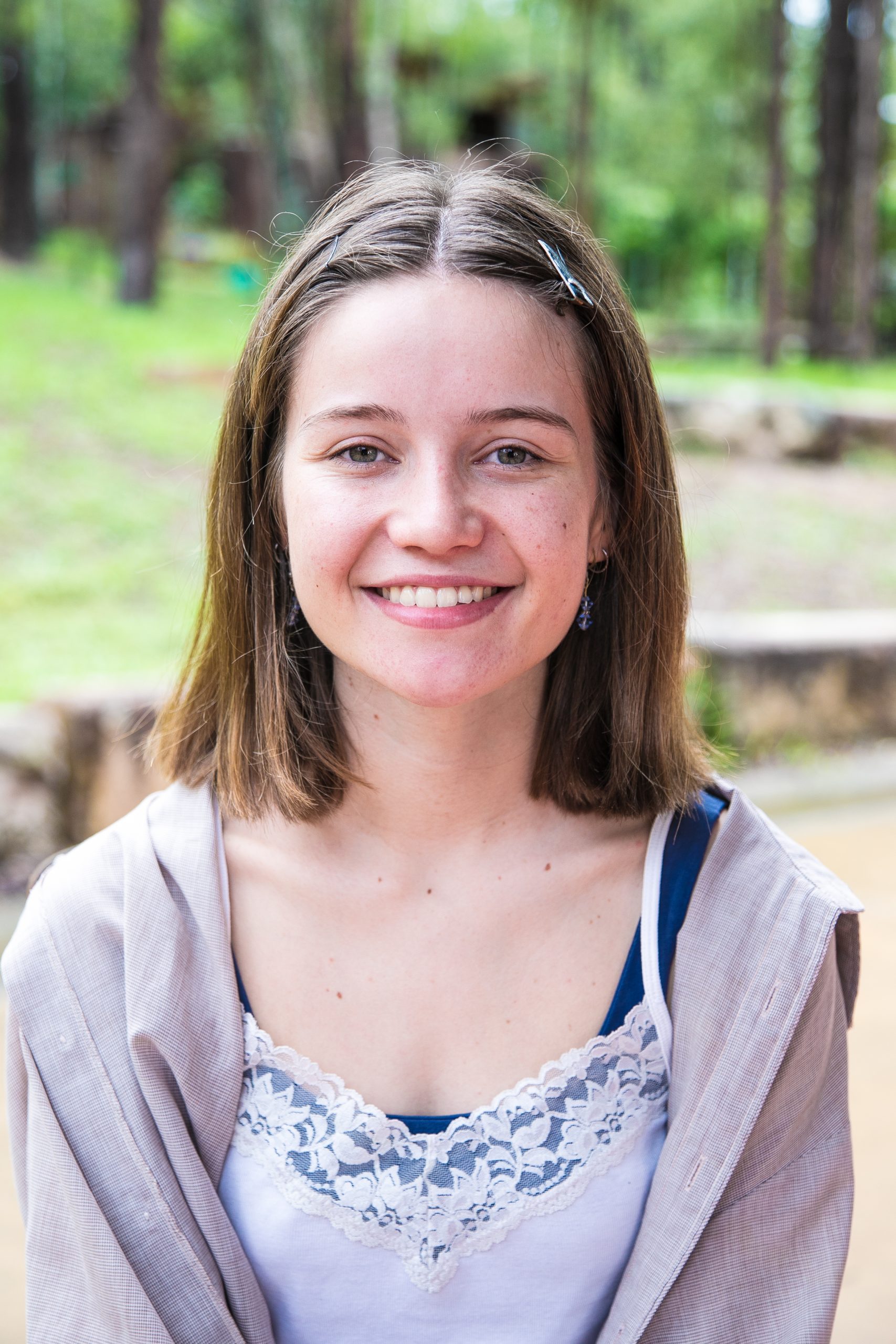 Finlay Fawcett
Finlay attended SVSS from Kindy (2007) to Class 4 and then returned in Class 7 in 2015. She is bubbly, insightful, caring, quick thinking and from her project you can see she has a care that goes beyond her local environment. If you have not had a chance to experience her chai tea I encourage you to try it – details are on her website listed below. Somehow I think this is only the start of her journey.
The aim of my senior research project is 'How to create a sustainable product'.
I have created a custom blend of sustainable chai tea featuring a unique combination of Australian native ingredients mixed with traditional Indian spices. I undertook extensive research into finding sustainable options for labelling, packaging and of course ingredients.  My product is known as Ahimsa-T Morning Chai. Ahimsa is an ancient Indian principle meaning kindness, friendliness and thoughtful consideration of other people, our planet and ourselves. This idea helped to form the basis of my tag line 'Nurture the Soul of our World'. Ahimsa-T champions three native ingredients: wattleseed, pepperberry and cinnamon myrtle. The wattleseed gives my chai a slight nutty flavour, the pepperberry a nice spice and the cinnamon myrtle adds a sweet note. These ingredients are combined with ground ginger from Bundaberg and black tea from NSW Northern Rivers District. While the blend includes a few imported ingredients, these are purchased from organic wholefoods suppliers to minimise packaging and ensure a fair-trade origin. I tried to source all my ingredients from Australia. This means less food miles and allows me to support Australian businesses.  
In addition to making the tea I have been selling it.  To do this I created a website to advertise and sell my product. I have made a gift pack for the website which will include a vintage teacup and saucer, a vintage teaspoon, a handmade coaster, a pot of local raw honey & a jar of Ahimsa-T Morning Chai. My website: https://www.ahimsa-t.com
I have gained knowledge in how to create a sustainable business. I have researched other sustainable businesses for inspiration and ideas on how I want my business to operate and look.  I have gained knowledge in sustainable material, learnt how to build a website and gained confidence through selling my product. I have learnt how to make a product appeal to consumers and what they are looking for in a product.
I know I am a Steiner Student because of the depth of support that is provided to all the students.  Comparing my experience as a student in a Steiner school with a mainstream school, I think that the Steiner school is really great at providing a collaborative approach to learning, rather than a competitive approach. My schooling has helped me perceive the world from many different perspectives and this has helped me develop an open mind.
My favourite Main Lesson was an English Main lesson where we studied 'Malala'. I loved the debating we did in this Main Lesson, and looking at a strong female figure, this made an impact on us especially as we were at the start of our adolescent period.
My favourite camp has been the sailing camp. I loved it because initially I was concerned, I would be seasick, however, as soon as we started to learn how to sail and work as a team, it was so much fun! Each day was different, with new adventures every day.  I loved the staff that attended, the content of our lessons, and generally spending time as a class together.
An experience I remember strongly was the end of canoe camp where we were travelling down the Brisbane River. We worked really hard; we were exhausted paddling against the wind as we came into the city.  When we eventually arrived under the Story Bridge, we felt a real sense of accomplishment.  This is one of the memories I cherish.
During my time at SVSS it has been fun, challenging, entertaining, emotional, nurturing, warm, caring, and supportive. The sense of community at the school has been one of the best parts and I will always be grateful for being a part of it all!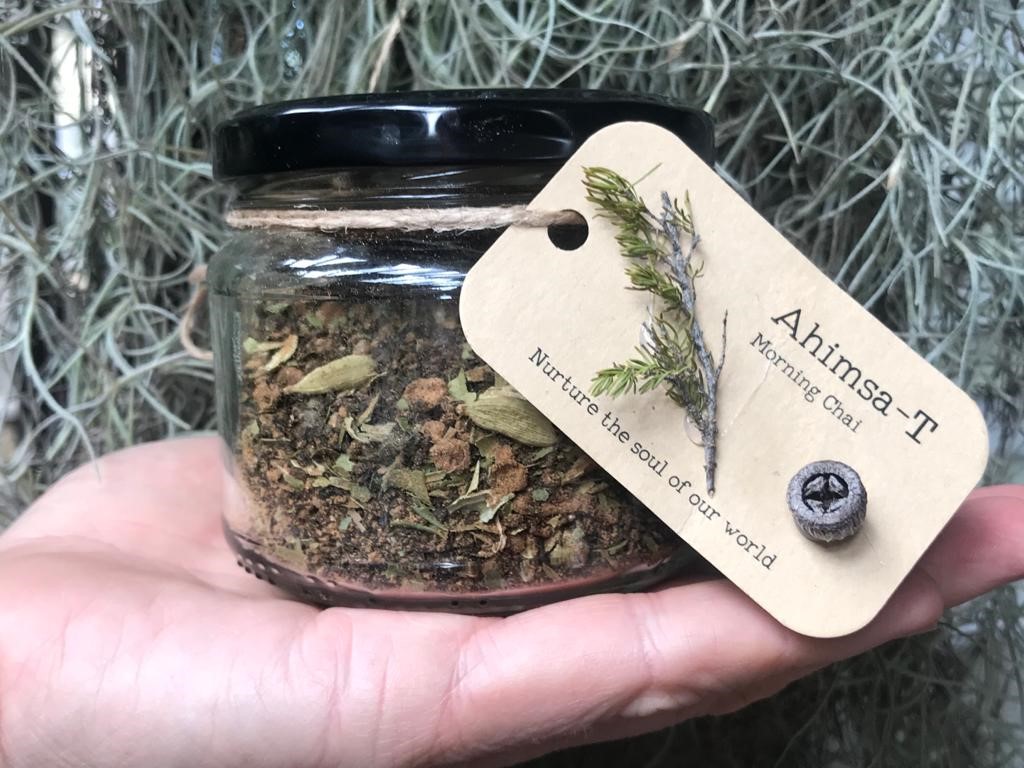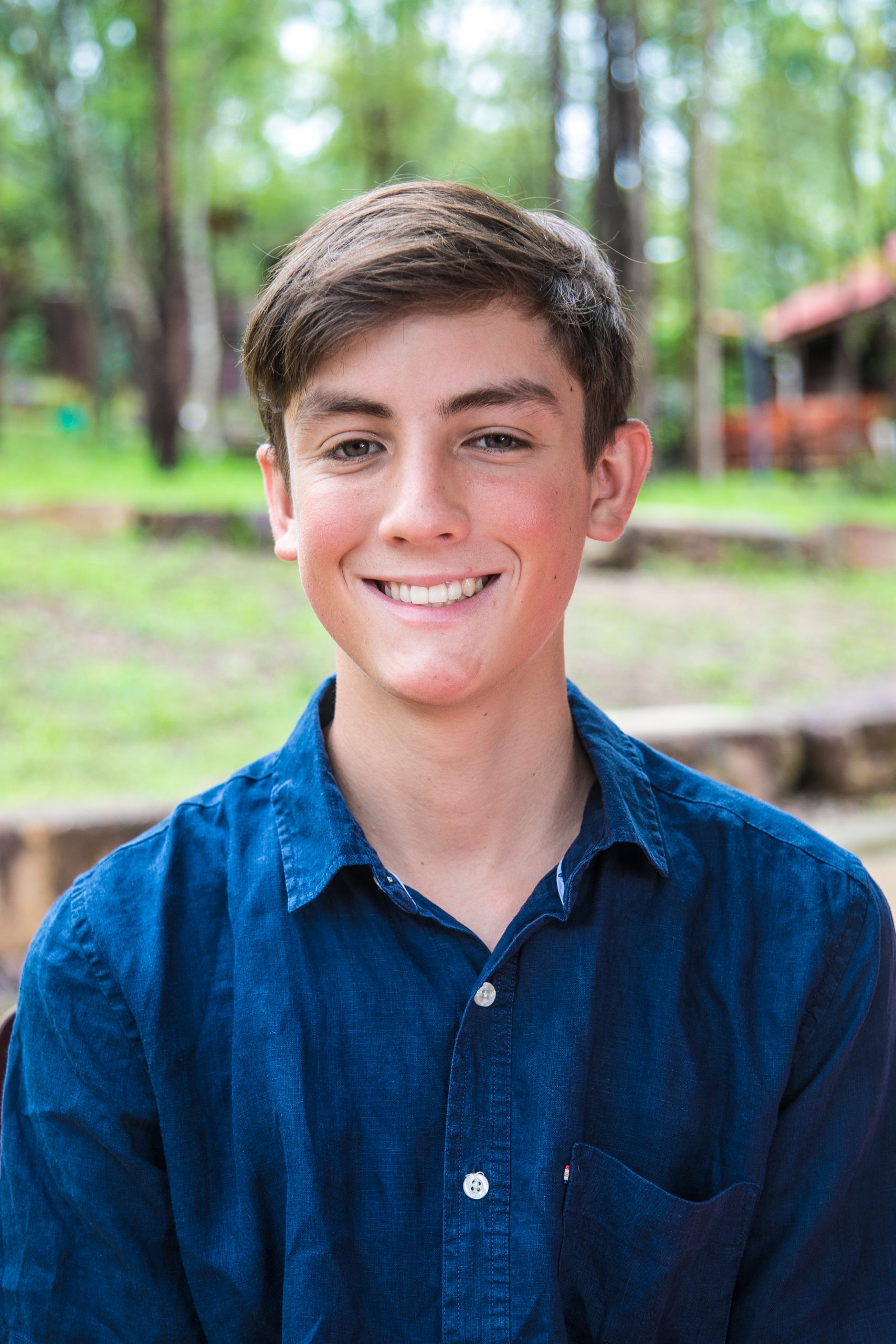 Benjamin Richardson
Benjamin (Ben) joined the class at the start of Class 5 in 2013, coming from Orana Steiner School in Canberra. Ben is a humble, polite and kind student who is driven by nature and its beauty. When a 17 year old says "My happy place is where I can look out and see nothing on the horizon" this says a lot about their inner world  and the ability to sit in stillness, something that we all strive to be able to do.
What is your question and how have you look at this throughout the year?
How can I utilise fish behaviour and biology to make an effective range of lures? I have looked at what triggers a fish to bite, their dietary patterns, migration pattern and habitats. I explored all of this through my research, conversation with others and my observations.
As part of my project I also manufactured many types of lures in the aim to find the most effective lure for a specific type of fish.  This involved me designing, modelling and producing lures considering factors like fluid dynamics, buoyancy and density gradients.
I have gained skills in CAD design, CNC machine work, how to interpret my research to create the best lure, airbrushing, bib fitting, manual skills going from paper to 3D model and then to the real object.
My job skills (Freddy's Fishing and Outdoors) have increased enormously through this process as I gained more knowledge in my field of sales through my project. I am now more equipped to answer many of the questions that come from customers.
I know I am a Steiner Student because of the close relationship I have my class peers and their families, it is a big community. Also, the respect and knowledge that we have for the outdoors, which we have gained through the camp program.
My favourite Main Lesson would have to be Cartography that we did in Class 11. I enjoyed the boating and navigation, both of these things I enjoy greatly.
My favourite camp, I have enjoyed them all, however the sailing camp in Class 11 was up there as one of my favourites. I enjoyed the competitive part of the sailing, being out on the ocean and spending time outdoors.
Can you remember an experience that you enjoyed strongly?
The Youth Conference in 2019. I enjoyed the coming together of other Australian Steiner students in joining us here at Samford, we all felt a part of a bigger community. We are still in contact with each other a year later, the friendships we formed in that week were deep and will be long standing.
My experience at Samford Valley Steiner School has been fun, I have enjoyed my time, I am ready and excited to leave and enter into uni life and the work force.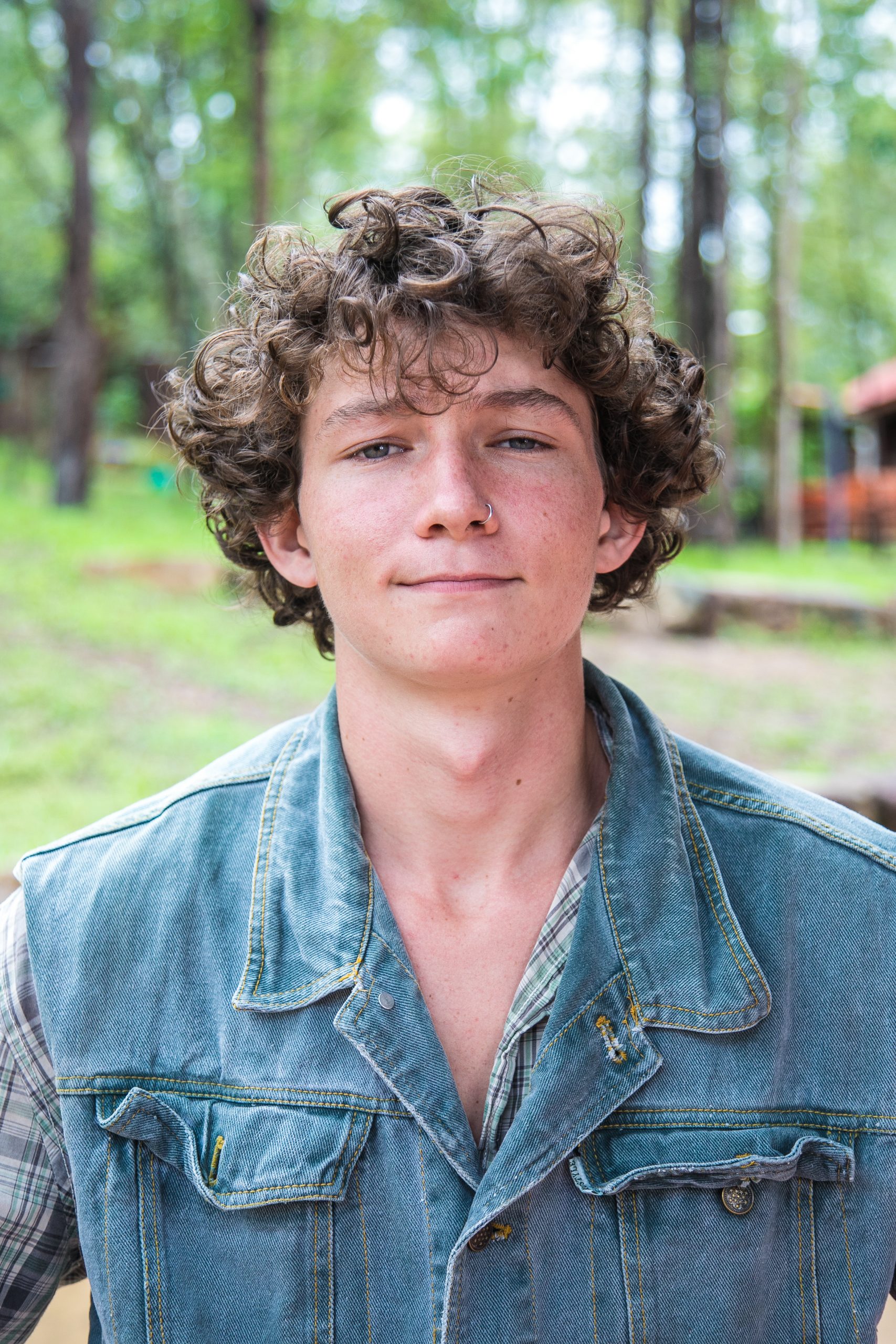 Joe Kearney
Joe Kearney been at school since Preschool, he is the last of 4 siblings that have attended Samford Valley Steiner School. Joe is such a deep caring larrikin; he feels his own pain deeply as well as the pain of others. In feeling and working through the pain, he is able to care and make a positive difference to people around him.
What is your question and how will you look at this throughout the year?
What does BMX trails do for personal and community development?
BMX riding has been a hobby of mine for the past 4 years so I thought it would be great to include in my SRP. My brother and I started creating a trail about 3 years ago, and this is when I started to notice the community that existed around BMX riding.
I started this project off by looking deeper into the community that I was a part of and realised that it was a beneficial to many of us that participated in it. Over the year I focused on my question and explored it by having conversations with people at the trail and other trails and sending a survey out to BMX communities around the world. I received a lot of feedback and information towards my research from this survey, some of which I still pull out today as it is very affirming.
Part of this project also had me looking at the risks of the trail as it is on council land, I have been working with council in regard to working with the neighbours to create a space for us to BMX ride.
I learnt the real benefit to community and the impact of what I do in this process, by me providing space I provided joy, belonging, a safe haven, and fun to many people.
This year we started a new section that we turned more into an art piece rather than a jump, it is used as a jump and also as an artefact that people can enjoy, in doing this I learnt that aesthetics is important in our lives, the jumps are important but by applying beauty to the area we provide nourishment.
How do you know you are a Steiner Student?
What I notice in friends of mine that are not from the school is that they are not as open, or aware of other ways of thinking, they are not necessarily aware of their surroundings and the impact they have on them. My classmates and I often have discussions about the environment, we seem to care deeply about it, in some circles this may seem uncool.
Can you name a Main Lesson that you remember fondly and why?
Poetics Main Lessons in Class 10 with Dave, I liked writing poetry, it comes easy to me and is a good way for me to express myself.
What has been your favourite camp to date?
The sailing camp was one of my favourites, I liked it as this one felt like a big adventure – mapping, sailing in the ocean, having the wind etc. There were relaxing moments as well and a camp where we all bonded as a group.
Can you remember an experience that you enjoyed strongly?
I enjoyed being a part of the Class 12 play in 2019, The Seagulls. I enjoyed it as I played a role that was completely in contrast to my personality, and I enjoyed mixing with the other year level.
Describe in one sentence your experience at Samford Valley Steiner School
Other schools seem to prepare students for a 'job', to be part of the cogs in the machine called society, I feel like at SVSS I have been prepared to face the world as an individual and be confident with who I am and what I have to offer.